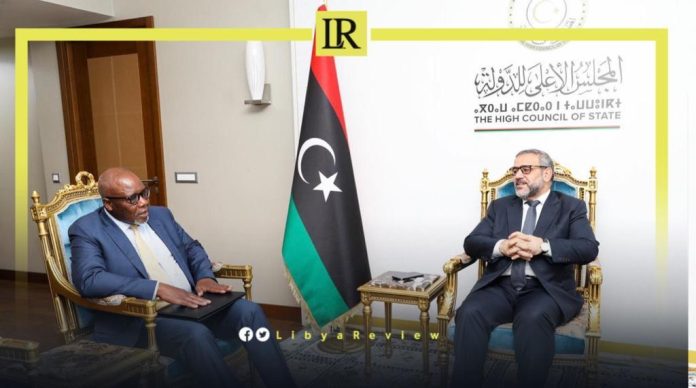 On Thursday, the acting Head of the United Nations Support Mission in Libya (UNSMIL), Raisedon Zenenga held a meeting with the High Council of State (HCS) President, Khaled Al-Mishri, and First Deputy Chairman, Naji Mukhtar. The HCS Rapporteur Belgasim Debraz was also present.
During the meeting, the two sides discussed the current efforts to resolve the political stalemate, and the escalating military build-up
Zenenga stressed that it is "critical for all sides to maintain calm, and defuse current tensions."
He assured Al-Mishri of the UN's strong support for the efforts he and Parliament Speaker, Ageela Saleh are making to sustain dialogue and finalize a constitutional framework for elections as soon as possible.
In June the heads of Libya's two rival legislative chambers met in Geneva for negotiations aimed at restoring a UN-led election process, which fell apart in December.
Both bodies are recognized under the UN-approved 2015 Libyan Political Agreement, as the two legislative bodies. Despite this, they have been in direct confrontation with each other for most of the period since Libya split between eastern and western factions in 2014.
There is currently no agreement on how to move the political process forward, and who should rule the country in the lead-up to elections. The Government of National Unity (GNU) led by Abdel-Hamid Dbaiba remains in Tripoli, and a rival one led by Fathi Bashagha, and backed by the Parliament is based in the coastal town of Sirte.
The long-awaited Libyan elections were supposed to be held on 24 December 2022. The country's elections commission said that a "force majeure" prevented it from organizing the elections, after political parties failed to reach an agreement.
The Parliament has withdrawn confidence from the GNU, and appointed Bashagha to replace him. Dbaiba has since refused to cede power to his rival.