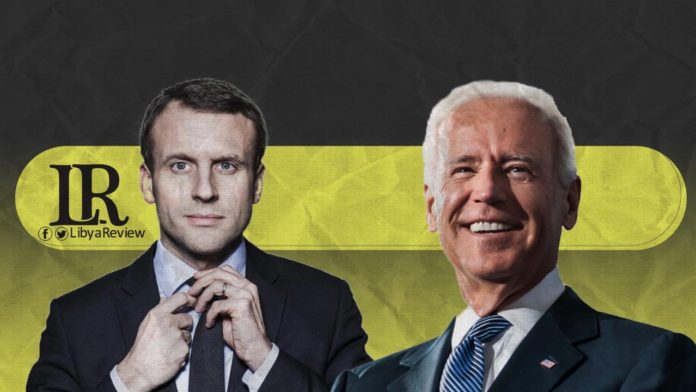 On Wednesday, French President, Emanuel Macron offered his American counterpart, Joe Biden and others a time-bound plan that aims to withdraw all mercenaries and foreign fighters from Libya.
The plan – seen by POLITICO – sets out a six-month timeline that proposes to withdraw Turkish-backed Syrian mercenaries, and all regular Turkish troops.
The French President has put the idea directly to President Biden and Turkish President, Recep Tayyip Erdogan during their meetings at the NATO summit in Brussels, and the G7 Summit in England.
The plan's ultimate goal is to further stabilize Libya, which has created migration challenges and terrorism risks for Europe.
The main players in Libya are trying to cement a ceasefire reached last October, between the former Tripoli-based Government of National Accord (GNA), and the Libyan National Army (LNA), commanded by Field Marshal Khalifa Haftar, who controls the eastern part of the country. In March, Libya established a Government of National Unity (GNU), recognized by all major actors in the civil war.
The idea behind Macron's plan appears to be to tap into America's weight, and use it as leverage to pressure Turkey to withdraw its affiliated forces. It's a tactical change for Macron, taking a more collective approach that could end up offering a foreign policy victory for someone else – Joe Biden.
"It could resonate with US policy," said Tarek Megerisi, Libyan expert at the European Council on Foreign Relations (ECFR). "They prioritize expediency over substance when it comes to Libya, and rely heavily on key allies despite their partisanship."
As part of Macron's plan, Turkey would withdraw the Syrian mercenaries it sent to Libya in 2020, when the GNA asked for help pushing back a siege by LNA forces. Such a step could take place from 1 July.
The second phase proposes to reunite the divided Libyan security forces, currently divided between those who have defended the government in Tripoli, and those who fight for the LNA.
The proposal is an attempt to revive stalled efforts to get foreign fighters out of Libya. This comes after the failure of two previous plans. The October ceasefire included a clause requiring all foreign fighters and mercenaries to leave the country within 90 days. This deadline came and went without movement, and the UN Security Council then passed a resolution calling on all parties concerned to withdraw their foreign forces, but this was also ignored.
The Biden administration has not said whether it supports France's latest proposal – and has not indicated whether President Biden will discuss the plan with President Erdogan or Russian President, Vladimir Putin. US officials have admitted that they have been working to get the foreign fighters out of Libya.
"We are consulting a range of Libyan and international partners to urge full respect for the Libyan ceasefire agreement, and its call for the departure of foreign elements," said a senior administration official.
Biden officials said the president discussed Libya in general with President Erdogan, during a longer-than-expected NATO summit meeting on Monday. Libya should be on the agenda for Biden's meeting with President Putin on Wednesday afternoon in Geneva.
Notably, Libya has scheduled general elections for 24 December, and there is growing doubt that they will be held on time.