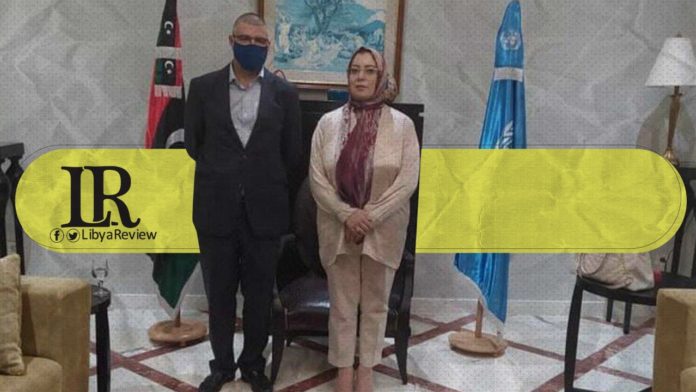 On Saturday, the Libyan Minister of State for Women's Affairs, Houria Al-Tarmal, held a meeting with the European Union (EU) Ambassador in Libya, Sabadell Jose, to discuss ways of supporting Libyan women and enhancing their participation in political decision-making process, through the upcoming national elections scheduled for December 2021.
On his part, the EU Ambassador expressed his aspiration to support the Ministry of Women's Affairs to enable Libyan women to assume senior positions, and raise their efficiency level to be able to effectively participate in the political life.
Notably, Libyan woman set an outstanding example of patriotism, when female members participating in the Libyan Political Dialogue Forum (LPDF) sessions emphasized the necessity of holding the Libyan elections as scheduled at the end of this year in line with the roadmap that was announced.
During the consultative sessions aimed at laying down the constitutional basis for the upcoming parliamentary and presidential elections, the LPDF's female members unanimously agreed on the need to uphold the Libyan people's right to choose their President.
Ever since the revolution, Libyan women have led changes on the local and national levels. A majority of civil society organizations in Libya are led by women, and to this day they play an important part in maintaining social cohesion in a deeply-fragmented society. Libya's lack of functional institutions meant that civil society organizations were necessary in maintaining structure during the turmoil that followed the downfall of the Gaddafi regime.