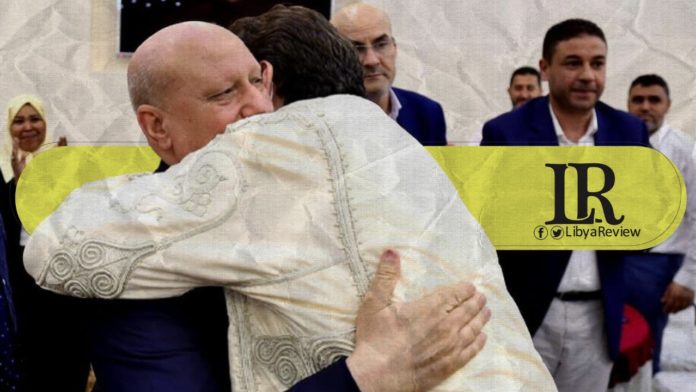 The Justice and Construction Party, the political arm of the Muslim Brotherhood (MB) group in Libya, announced that Imad Al-Banani had won the party's presidency, succeeding Muhammad Sawan, in a move that was seen by observers as a new attempt to compensate for the group's successive losses in Libya.
This comes a few weeks after the group, which is classified by the Libyan Parliament and several nations as a terrorist organisation, announced that it had transformed into an association called the "Renaissance and Renewal."
Although the Brotherhood had claimed that its transformation was due to taking into account the variables of reality, Libyans have doubted the step as an attempt to cope with the democratic transition in Libya that threatens its influence in the country.
Libya, represented in the High National Elections Commission, is racing against time to hold the upcoming December elections as scheduled. This is according to the agreement emanating from the Libyan Political Dialogue Forum (LPDF), which was held under the auspices of the United Nations in November 2020.
Observers believe the move was aimed at preparing for the upcoming elections, as part of the MB's attempts to regain the confidence of the people. The name change was not the first of its kind, as it had previously claimed that several leaders were split, or announced group's dissolution in various cities.
As a result of the successive disappointments the group faced, and the clear popular rejection of it inside Libya, several members submitted their collective resignations. This resulted in a major shock within the organisation, as it teetered on the verge of collapse.
In August 2020, the group's office in the city of Zawiya in western Libya announced the collective resignation of its members, and the dissolution of the group's branch. Members of the banned group in the city of Misrata threatened to resign as well, in protest against the policy of the group's leaders at that time.
The Brotherhood in Libya has recently been going through a difficult stage, due to the involvement of most of its leaders in supporting extremist organisations in the country over the past two decades. Before the February 2011 revolution, the group was involved in mediating between the Libyan Islamic Fighting Group (LIFG) and the former government.
The group also allegedly made alliances between its leaders in Misrata and terrorist-designated organisations, where they helped form the Libyan Shield Forces, considered as the first building block for the IS-allied Ansar Al-Sharia, and the Benghazi Revolutionaries Shura Council (BRSC).
In the wake of these alliances, and the involvement of its members in committing violent crimes, the group suffered a massive defeat in the 2014 parliamentary elections.