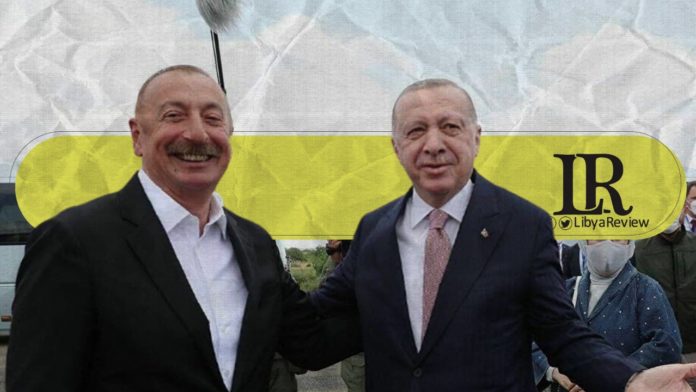 Turkish President, Recep Tayyip Erdogan called on Azerbaijan to cooperate with Ankara in the field of petrochemical industries in Libya. In a move that observers see as a clear challenge to the international community's desire to remove all foreign forces and limit foreign interference in Libya.
President Erdogan's statements sparked widespread anger in Libya, "he talked about Libya as if it were a territory under the sovereignty of his country, based on the agreements he signed in 2019 with Libya's Government of National Accord (GNA), and others signed by the current Government of National Unity (GNU)," said an observer.
During his visit to the Azerbaijani capital Baku last Friday, the Turkish President said that Turkey and Azerbaijan can work in the hydrocarbon sector in Turkey, Libya, or other countries, and they can also participate in the oil refinery business.
When asked whether Turkey and Azerbaijan have any plans to explore jointly for gas and oil in areas such as the Black Sea, he replied: "just as we are together in the TAP [Trans Adriatic Pipeline] and TANAP [Trans-Anatolian Gas Pipeline], we can take such a step with my dear friend, Ilham Aliyev in Libya."
President Erdogan, who is accused of violating the sovereignty of several countries in the Middle East, aims to strengthen the Turkish-Azerbaijani alliance, enhancing his power in his conflict with Russia.
Independent Arabia newspaper said in a report that Turkey and Azerbaijan are particularly interested in establishing a land corridor near the city of Nakhichevan.
The newspaper pointed out that this would mean opening a direct line between Ankara and the Turkic republics in Central Asia in the east, with who Ankara has always sought to confirm its common ethnic relationship. This comes as part of the neo-Ottoman framework that aspires to expand eastward in Central Asia, and south through the Middle East.
The President's statements reflect Turkey's insistence on the "blue homeland" doctrine, despite widespread international pressure on him to respect the sovereignty of his neighbours after years of abuse, according to Independent Arabia.
The doctrine of the "Blue Homeland" represents the Turkish national endeavors towards expansion and control of the three seas, which surround Turkey the Black Sea to the north, the Aegean Sea to the west, and the Mediterranean Sea to the south.
"While carrying out our duties, we are proud to raise our glorious Turkish flag in all our seas. I acknowledge that we are ready to protect every area of our 462,000 square meters of our Blue Homeland," President Erdogan said during his speech at the Turkish National Day in October 2019.
Erdogan's calls came days before the Berlin II Conference on Libya, which will certainly discuss the nature of the Turkish presence in Libya, and the Syrian mercenaries who remain stationed in western Libya.
Observers believe that these calls will have negative repercussions on the Berlin table, especially since Russia, Armenia's strongest ally, will not accept such an axis. Therefore Moscow will mobilize international will against Ankara to limit its influence in Tripoli, and remove its forces and mercenaries.
If Libyan Foreign Minister, Najla Al-Mangoush succeeds in mobilizing an international agreement on the "Libya Stability Initiative", which aims to preserve the sovereignty of Libya, Erdogan's power will be curbed in Tripoli.