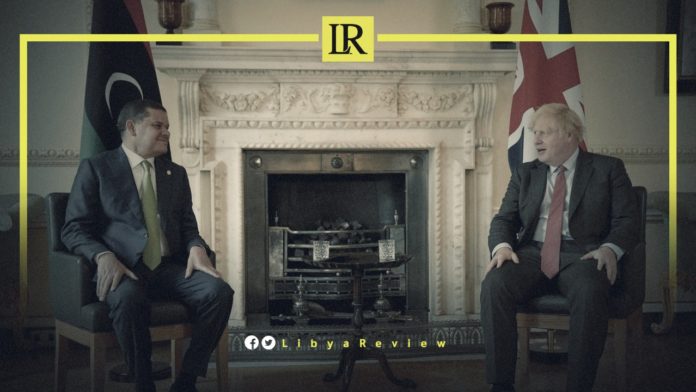 Boris Johnson has been accused of "betrayal" after a meeting with Libya's interim Prime Minister of the Government of National Unity (GNU), which ended with no mention of compensating victims of the Irish Republican Army (IRA), who were injured by weapons and Semtex allegedly supplied by Libya.
Johnson met with Dbaiba on Downing Street on Thursday, but there was anger from victims' groups when the issue of compensation appeared to be ignored.
A press release from Downing Street said Johnson had addressed ongoing security concerns in Libya, the opening of the Libyan National Oil Corporation's (NOC's) European hub in London and the return of an ancient Greek statue.
The BBC claimed that former Libyan leader, Moammar Gaddafi's regime supplied large amounts of weapons to the IRA. Semtex explosives were used in numerous attacks, such as the Enniskillen Remembrance Day bombing in 1987, and the 1996 attack on London's Docklands.
The government has consistently refused to use the £12bn in frozen Libyan assets in the United Kingdom (UK) and maintains that it is a matter for the North African state.
Kenny Donaldson, the spokesman for Innocent Victims United, said it was time for the "betrayal" to end.
"The Prime Minister needs to catch a grip and fast, the UK State is becoming a cold house for innocent victims/survivors of terrorism, the policy direction followed by the UK Government has consistently meant that innocent victims/survivors of terrorism have been relegated to the status of collateral damage," he said.
Jonathan Ganesh from the Docklands Victims Association quoted a 2018 letter he received from Johnson during his time as Foreign Secretary, in which he said it was "a moral imperative" to secure justice for the victims.
"It's terrible, it's an appalling situation where the Prime Minister of Libya turns up to London and Boris Johnson has an opportunity to fight for his citizens and he chooses, allegedly, to discuss trade and business.
"I find it abhorrent…what's a Prime Minister for if he's not going to fight for you?"
"We continue to press the Libyan authorities to address the Libyan State's historic responsibility for the Gaddafi regime's support for the IRA."