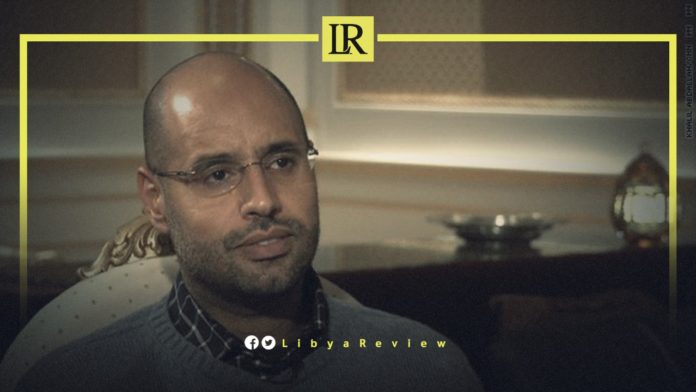 Saif Al-Islam Gaddafi, son of the late Libyan leader Muammer Gaddafi, has not been seen in public since he was released from house arrest in 2017. But now he is allegedly considering a race for the presidency, in the war-torn North African country, where the United Nations and several countries are pressing for elections in December, according to a report published by the voanews.com
The prospect of Saif coming to the polls is troubling Western diplomats and international democracy advisers, who say Libya's turbulent peace process is big enough to get away without the involvement of Gaddafi's son, a highly polarizing figure.
"What I've heard is that it's more vindictive than reconciliation," says Mary Fitzgerald, a researcher and associate fellow at King's College London's International Center for the Study of Radicalization. Fitzgerald, a former Irish Times newspaper reporter covered the 2011 Libyan civil war that ended the rule of Muammer Gaddafi.
Saif, wanted by the International Criminal Court (ICC) on war-crime charges, is allegedly negotiating through intermediaries with the Western media. The middlemen say a major US newspaper has conducted a formal interview with them, which is to be published next month.
"It is still unclear whether he is actually putting himself out there as a candidate. I will believe it only when I actually hear him or see him make the pitch in the video," Claudia Gazzini of the International Crisis Group, a Brussels-based think tank, told VOA.
Hafed Al-Ghawel, a Libyan-American and senior fellow at the Foreign Policy Institute of the Paul H. Neitz School of Advanced International Studies at Johns Hopkins University, says he doesn't think Saif has made up his mind. "But if he does, I think he'll have significant support," he said.
Observers say Saif's candidacy will prove popular in the country's south, and among Gaddafi's former loyalists – and he may be able to persuade many ordinary Libyans, tired of a decade of conflict, that he is the best bet for a stable future, observers say.
Since 2011, Libya has been ensnared in dispute and violence with rival governments, militias and warlords, backed by a variety of foreign powers, battling for mastery.
Encouraged by the UN and western powers, Libyan rivals agreed last March to a provisional administration, the Government of National Unity, (GNU), to run the country until elections 24 December.