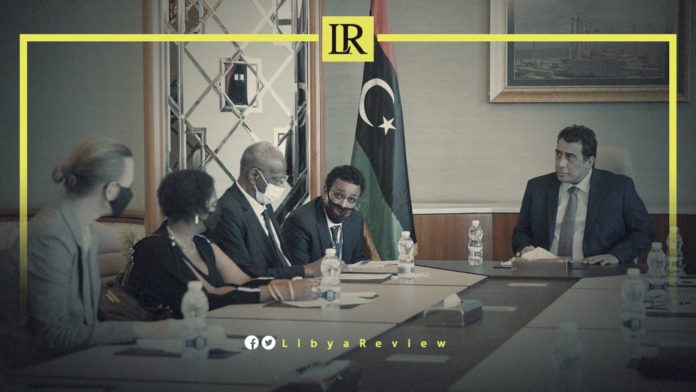 On Wednesday, the Head of Libya's Presidential Council, Mohamed Al-Mnifi, received a delegation from the Independent Strategic Review Committee of the United Nations Mission to Libya (UNSMIL), headed by Abdoulaye Batili.
During the meeting, the UN delegation commended the efforts of the Presidential Council during the past months, especially with regard to its recent reconciliation initiative, completing the unification of institutions, and maintaining the ceasefire agreement.
Batili has also praised Al-Mnifi's important role in achieving stability in Libya, saying that the purpose of the meeting is to join efforts with the Presidential Council to help lead the country to a new era of development and progress.
In turn, Al-Mnifi valued the role of UNSMIL's work in supporting the country's new transitional authorities, in their post-conflict efforts.
Notably, UNSMIL's Head, Jan Kubis held consultations with representatives of France, Germany, Italy, the UK, and the US. He also held telephone conversations with Russia, Morocco, and high-level Libyan representatives to discuss the progress made so far towards the roadmap, in line with the Berlin II Conference conclusions.
Kubis and international partners called on the LPDF members to "live up to their national responsibilities, and facilitate the constitutional basis and enact the legal framework to enable the holding of national elections on 24 December 2021."