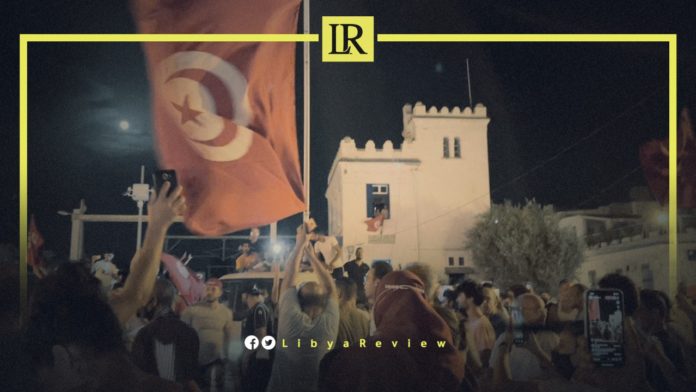 During a meeting on Sunday evening, Tunisia's President Kais Saied and the country's security and military leaders, decided to dismiss Tunisian Prime Minister Hicham Mechichi, suspend the country's Parliament, and waive the immunity of all its members.
These decisions came in the wake of widespread protests across Tunisia against the PM and Ennahda, the Islamist ruling party affiliated with the Muslim Brotherhood, over the nation's economic and social turmoil.
These events brought back memories of the Arab Spring, which began a decade ago in Tunisia, following the mass protest against the previous regime of Zine El Abidine Ben Ali.
The uprisings, which demanded an end to corruption and economic stagnation, managed to overthrow four Arab regimes in Tunisia, Egypt, Libya, and Yemen.
This sudden change opened the door to widespread security turmoil, the proliferation of arms, illegal border movements, and bolstered terrorism in the region. These revolutions did not eliminate corruption, rather the economic and living conditions worsened in several states.
The Muslim Brotherhood (MB) organisation took advantage of these events, and rode the crest of the revolutionary wave, and quickly secured power in Cairo, Tunis, and Tripoli.
In July 2014, millions of Egyptians took to the streets; calling for the overthrow of the Brotherhood government. The country's security agencies, especially the army and police, responded quickly to these demands.
The same scenario has happened again in Tunisia, with the Tunisian people rising up against the policies and practices of Ennahda, its MP's, and government ministers.
President Saied announced that he would assume control of the executive authority with the assistance of a new prime minister. This is the biggest challenge yet to a 2014 democratic constitution that split powers between the President, Prime Minister, and Parliament.
The events in Tunisia are a decisive blow to the MB, leaving Libya its final stronghold in the region.
All the while in Libya, there is widespread popular criticism against the Muslim Brotherhood due to its continued alliance with militias, foreign forces, and mercenaries, as well as its involvement in many cases of corruption, theft, and terrorism.
Observers believe that these developments will have a significant negative impact on the MB's Justice and Construction Party in Libya, and affect the organisation across the region.