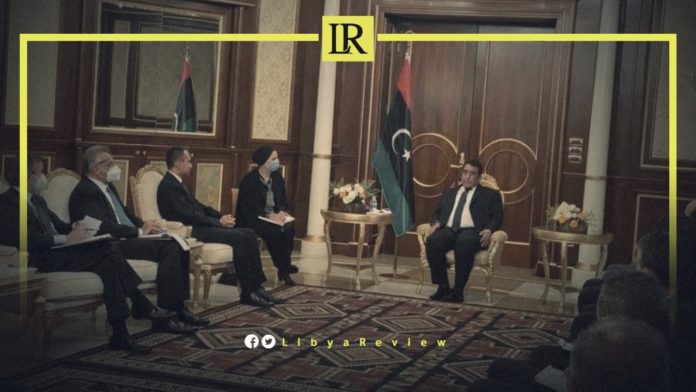 On Monday, the Head of Libya's Presidential Council, Mohamed Al-Mnifi, received Italian Foreign Minister, Luigi Di Maio and his accompanying delegation in Tripoli.
During the meeting, Al-Mnifi "highlighted the importance of outlining a legal framework for the elections as soon as possible, and the need for the Libyan Parliament and the High Council of the State (HCS) to reach a consensus on holding the upcoming elections as scheduled," according to a statement issued by the Presidential Council's media office. He also stressed the importance of enhancing bilateral relations between Libya and Italy, especially in the fields of investment and trade.
In turn, Di Maio welcomed the opening of the Libyan Coastal Road, noting that his visit came to emphasize the importance of this major step. He also commended the Presidential Council's efforts to achieve national reconciliation to restore stability, and reunite the people of Libya.
Di Maio expressed Rome's readiness to cooperate and work with Libya in various economic and commercial fields, especially in the south.
Notably, this is Di Maio's fifth visit to Libya this year, and is also scheduled to visit Benghazi, and Tobruk.
The main objectives of the mission, according to a note issued by the Italian Foreign Ministry, are "pursuing dialogue with the main Libyan interlocutors on the process of stabilization and institutional transition led by the UN, which Italy supports with determination; a call for the renewed engagement of all Libyan sides to favour concrete progress towards key objectives, including elections to be held on December 24; the implementation of a ceasefire, and the adoption of a unified budget and national reconciliation." In addition, to the follow-up of "numerous ongoing initiatives to strengthen the wide-ranging bilateral partnership" will be on the agenda.