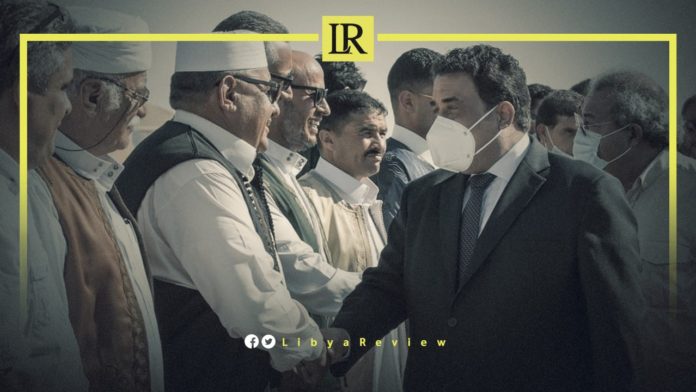 On Saturday, Mohammed Al-Mnifi, President of Libya's Presidential Council, arrived in Tobruk city. He is set to meet with a number of municipal officials and civil society representatives to discuss national reconciliation, according to a brief statement by the Council's media office.
Al-Mnifi's visit to the eastern Libyan city will "last for several days", said the Council.
The heads of Tobruk, Bir al-Ashhab and Musaid municipalities received Al-Mnifi upon his arrival at Tobruk International Airport.
In addition, a number of representatives from civil society institutions and regional elders were also present, according to a statement.
In May, the Head of the Presidential Council emphasized the need to press on towards establishing a National Reconciliation Commission to achieve inclusive reconciliation.
He stressed that achieving comprehensive national reconciliation that brings together all Libyans is a top priority for the Presidential Council. It is the cornerstone of building a unified civil state.
On February 5th, Libya's rival political groups agreed in United Nations-mediated talks to form an interim unity government to lead the country to elections this December. They designated a Prime Minister, Abdelhamid Al-Dbaiba, and tasking him with forming a new government.
Libyans hope it will end years of civil war that have engulfed the country since the ouster and killing of long-time leader Moammar Gaddafi in 2011.