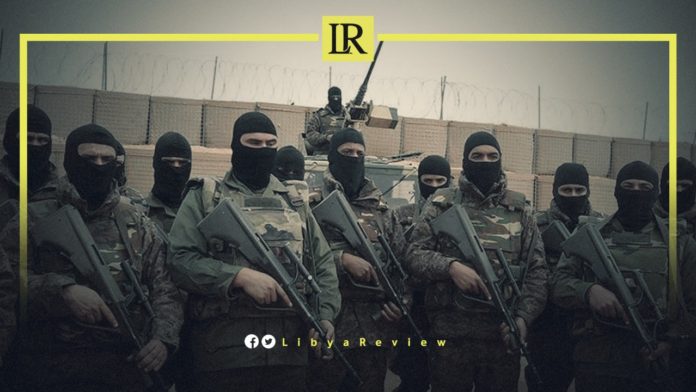 The Tunisian border is witnessing a state of cautious anticipation, after reports indicated the intention of terrorist elements inside Libya to enter Tunisia and stir up the situation there.
Libyan newspapers reported that the Head of the Arab and International Police had written to the Libyan Interior Ministry, stating that the Tunisian Interpol informed him about the intention of 100 terrorists present at Al-Watiya Air Base, to infiltrate Tunisia via Libya to carry out acts of sabotage.
Al-Watiya Air Base is a military in western Libya. It is 27 kilometers East of the Tunisian border and 125 kilometers from the Libyan capital, Tripoli.
Last month, Tunisian President, Kais Saied, took decisions to curb the Muslim Brotherhood group. Some press reports have stated that the group intends to spread violence in Tunisia through Libya.
Meanwhile, press reports mentioned coordination efforts between the Muslim Brotherhood in Tunisia and Libya, represented by the Ennahda movement led by Rashid Ghannouchi, and Libya's Supreme Council of State headed by Khaled Al-Mashri.
Al-Mashri has chaired meetings with Tunisian members of the Islamic States (ISIS) and Al-Qaeda. These members are returning from Syria and Iraq to provide logistical and military support to the Ennahda movement in Tunisia.
Libyan sources told Sky News Arabia, that the Muslim Brotherhood in Libya met after the decisions of the Tunisian President and communicate with the leaders of the group in Tunisia, after which the group declared a state of alert.
The source added that 3 militia camps inside Libya, 218 kilometers from the Tunisian border, were among the camps whose members were mobilized, and that there were movements of militias towards the Tunisian border.
Al-Mashri has denied the decisions of Qais Saeed, saying that, "we reject the coups against the elected bodies and the disruption of democratic paths."
Militias in Libya favor the Head of the Tunisian Ennahda movement, Rashid Ghannouchi, as he facilitated them to enter arms through the Tunisian borders and was involved in brokerage commissions. He also facilitated the entry of Turkish equipment.
The Libyan Al-Marsad newspaper quoted sources saying that there is pressure on the Minister of Interior, Khaled Mazen, to deny the authenticity of the document sent by Interpol, but it was circulated to several sides in western Libya. "As the Ministry of Interior we do not know what is inside Al-Watiya base, and the Libyan military authorities are also missing information," the source added.
"We link the speech of President Kais Saied yesterday to an assassination attempt and Tunisia's sudden announcement of canceling or revising its economic agreement with Turkey with what was stated in the letter of the Tunisian office of Interpol," the source concluded.
The correspondence reveals that the Libyan Interior Minister asked the police departments to intensify search and investigation operations to thwart any plots hatched to carry out any terrorist operations.