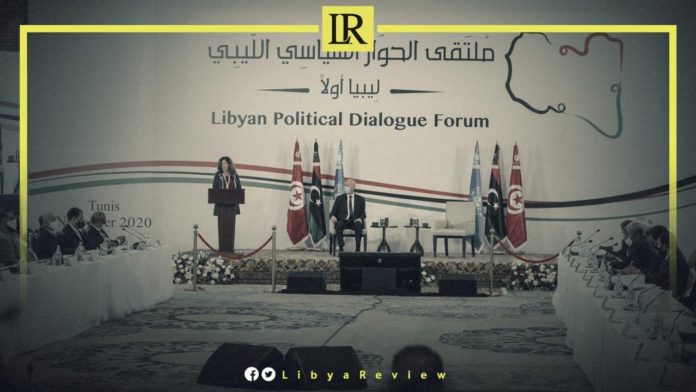 On Saturday, 31 members of the Libyan Political Dialogue Forum (LPDF), called on the Special Envoy of the Secretary-General of the United Nations (UN) to Libya and Head of the UN Support Mission to Libya (UNSMIL), Ján Kubiš, to hold an emergency session to address the grave breaches that impede the implementation of the LPDF roadmap.
In a letter, the LPDF members called for an emergency meeting for the forum to address the serious breaches in the implementation of the country's agreed-upon political roadmap.
They added that the session also aims to discuss the serious developments that negatively affect the country's unity, stability, and civil peace. They stressed their unwavering keenness to remove all obstacles that hinder the holding of the upcoming elections, scheduled for December 24th, 2021.
The LPDF members who signed the letter included: Abdul Muttalib Thabet, Sultana Al-Mismari, Ziad Daghim, Badr Al-Naheb, Hamad Al-Bundaq, Ahmed Al-Sharkasi, Boubaker Issa Al-Obeidi, Belkassem Al-Nimr, Saleh Al-Mansoori Al-Obeidi, Masoud Omar Al-Arfi, Idris Yahya Al-Barasi, Amal Bugaighis. Salwa Al-Daghili, Ibtisam Al-Arfi, Ali Bongim, Boubaker Misbah, Misbah Douma, Hajar Al-Qaed, Abdul Rahman Al-Abbar, Hassan Al-Zarqa, Abdullah Othman, Al-Ajili Al-Hasnawi, Saeed Kula, Hussein Al-Ansari, Anas Al-Hamri, Youssef Al-Farjani, Ramadan Al-Sanousi, Muhammad Bouajila Al-Ghadi, Khaled Al-Osta, Umm Al-Ezz Al-Farsi, and Khadija Abdel-Aali.
A few months ago, the LPDF selected a new executive authority and a Presidency Council, ending years of political division in the country. It also came up with a roadmap that includes general elections to be held on December 24th this year.