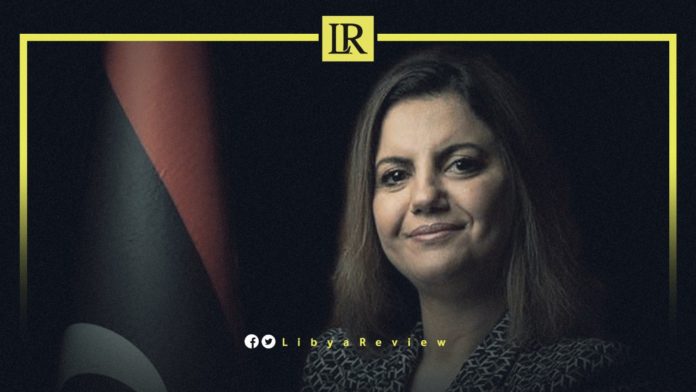 On Monday, Libya's Minister of Foreign Affairs, Najla Al-Mangoush called on neighbouring countries to support and adopt the Libya Stability Initiative, and invited them to participate in an international conference that Libya will organise in late September.
During her speech at a foreign minister's meeting of Libya's neighbours in Algeria on Monday, Al-Mangoush explained that the aim of the initiative is to be Libyan-led and internationally supported in order to allow the Libyan people choose their own future.
The initiative is based on a military and security track, and an economic track. The security track is currently the largest challenge facing the country, especially with the upcoming elections in December. This track requires Libya's partners and allies work to unify the army under one command, uphold Libyan sovereignty, integrate armed groups, and rehabilitate them on the security or civil levels. As well as support the withdrawal of mercenaries and foreign forces whose continued presence poses a threat not only to Libya, but to the entire region. She also stressed the need to secure and protect the Libyan borders to stop illegal immigration, human trafficking, organised crime, and smuggling operations.
Al-Mangoush emphasised that a major goal is to put in place the necessary executive mechanisms to achieve stability and peace in Libya. She added that the initiative seeks to implement UN resolutions, especially 2570 and 2571, in addition to the outcomes of the Berlin Conferences I and II on Libya, by setting up these mechanisms.
The FM explained that among the objectives of the initiative is to support and assist the Libyan authorities in implementing their political, security, economic and financial plans, and for Libya to take the overall initiative. She called on neighbouring countries, to support Libya in organising a consultative international conference at a ministerial level in Libya, with the participation of the United Nations.
She stated that the stability of the region was reliant on the stability of Libya, and expressed her aspiration for a new era of cooperation between peoples on solid foundations. She underscored the necessity and importance of unifying the political visions of countries to serve the region's political and economic issues. She also stressed the need to activate the national security scope of the region through a coordination strategy to monitor and secure the region's borders.
In addition, Al-Mangoush called for setting up a regional integrated food security program through economic frameworks and unified mechanisms, secure water resources, and to exploit all energies and capabilities.
The minister also called for addressing illegal migration, and pointed to the importance of assisting origin countries in creating development opportunities for their peoples to reduce this phenomenon. As well as the adoption of advanced educational curricula, and the exchange of scientific experiences and expertise. She emphasised that the various challenges that the region is experiencing can only be overcome through major unions and blocs. "We will have no way to survive, and continue except through integration, cooperation, and harmony. We are looking forward to building a strategic partnership with neighbouring countries, a partnership based on complementarity and positive exchange to achieve peace and security with the countries of the region."