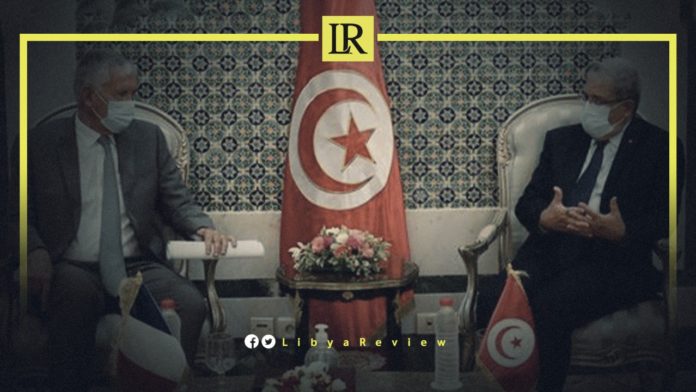 On Monday, Tunisia's Minister of Foreign Affairs, Othman Jerandi, discussed with the French Ambassador to Tunisia, Andre Baran, the importance of helping the Libyan parties implement the internationally agreed roadmap.
The two sides discussed the political issues facing the region, such as the Libyan political track, which would contribute to restoring stability and peace in the country. During the meeting, a number of issues related to cooperation and the upcoming benefits at the bilateral and multilateral levels were discussed.
Earlier this month, Jerandi stressed that Tunisia has always confirmed "on every occasion and at all bilateral, regional, and international levels that the security and stability of Libya is important to Tunisia's security and stability."
In his speech during a meeting of Libya's neighbouring countries held in Algeria, Jerandi added that Tunisia has spared no effort in supporting Libya in restoring stability, away from any foreign interference in Libya's internal affairs.
The FM stressed that the existing challenges, foremost of which are the security challenges related to terrorism and organised crime, required greater caution and careful joint coordination. He noted that the existing challenges also need to be separated from anything that could harm bilateral relations.
Jerandi referred to Tunisian President, Kais Saied's repeated call for Libyans to unite around a national goal that would restore security and stability, restore balance to the region, and avoid further tension and security threats. As well as stressing the importance of overcoming differences and achieving comprehensive national reconciliation to ensure the success of the upcoming December elections.
The FM called for the necessity of setting a clear, deliberate, and tightly coordinated timetable for the withdrawal of all foreign forces and mercenaries from Libya, so that terrorist organisations could not exploit the situation to further spread chaos and violence. He added that this timetable will prevent the growth of terrorist operations, organised crime, human trafficking or the infiltration of mercenaries into neighbouring countries through illegal channels.