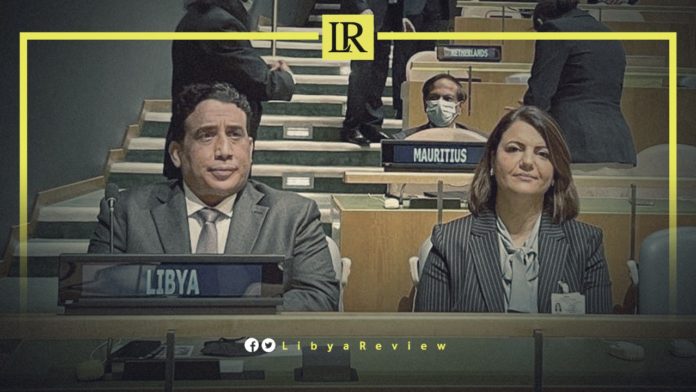 On Tuesday, Head of Libya's Presidential Council, Mohamed Al-Mnifi participated in the opening ceremony of the 76th session of the United Nations General Assembly (UNGA). He was accompanied by Minister of Foreign Affairs, Najla Al-Mangoush.
The opening of the session was attended by the Secretary-General of the United Nations, António Guterres, and the new President of the UNGA, Minister of Foreign Affairs of the Maldives, Abdulla Shahid.
During the session, Guterres welcomed the new President of the General Assembly. He called for concerted efforts to find real solutions to the challenges facing the world, foremost of which is the COVID-19 pandemic
Al-Mnifi arrived in New York on Monday, and met the President of the current session of the UNGA, and Egyptian Foreign Minister, Sameh Shoukry.
A source close to the Presidential Council said that Al-Mnifi's visit to New York will last for a week. He is also set to meet with a number of Arab and western foreign ministers concerned with the Libyan crisis.
On Monday, French Foreign Minister, Jean-Yves Le Drian announced that France will host an international conference on Libya on 12 November.
Le Drian explained that Germany and Italy will help prepare for the conference, which aims to ensure Libya's elections are held on time. As well as to discuss the withdrawal of foreign fighters and mercenaries from the country.
"In view of the December elections, France will organize, around the President of the Republic, an international conference on Libya on November 12," Le Drian said during a press conference on the sidelines of the UN General Assembly, according to AFP.
Le Drian and his German and Italian counterparts, Heiko Maas and Luigi Di Maio, will also co-chair a meeting devoted to Libya on Wednesday in New York City.
Paris' announcement of the international conference coincides with Libya's preparations to hold elections on 24 December, and the emergence of new differences between its rival parties.
France, Italy, Germany, the United States, and the UK confirmed the importance of holding the elections on time in a joint statement last week. They called on all Libyan actors to ensure "inclusive, free and fair" parliamentary and presidential elections on 24 December.
Notably, Di Maio warned that the failure to hold elections may expose the country to a new phase of violence and instability. "We are very concerned about the time that is shrinking, while the various Libyan parties are unable to reach an agreement on the electoral law and the budget," Di Maio said, in an interview with the La Repubblica newspaper on Friday.