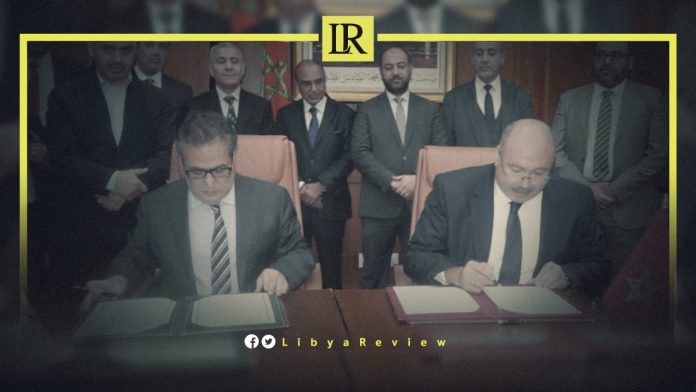 Libya and Morocco signed the Minutes of the first meeting of the Libyan-Moroccan joint Consular Committee, which includes the facilitation of obtaining visas and residency permits for Libyan students and their families in Morocco.
The meeting also discussed facilitating visa procedures for investors and businessmen from both countries, as well as visa procedures for immigrant Moroccan workers. The two sides emphasized the activation of judicial cooperation agreements and the transfer of convicts.
They also discussed easing the resumption of flights between the two countries.
This came arose during the meetings of the joint Libyan-Moroccan Consular Committee in its first session. It was held in the Moroccan capital, Rabat, on November 25th to the 26th, according to the media office of the Libyan Ministry of Foreign Affairs.
During the meetings, many topics and consular issues of interest to the two countries in various fields were discussed and studied.
The Libyan side in the meetings was headed by the Undersecretary of the Ministry of Foreign Affairs for Consular Affairs, Murad Hamima. The Moroccan side was headed by the Director of the Consular Affairs Department at the Moroccan Ministry of Foreign Affairs, Mohamed Al-Basri.
The Libyan delegation includes the Director of the Department of Consular Affairs, Abul-Fotouh Muhammad; the Undersecretary of the Ministries of Higher Education for Scientific Research, Saleh Hadiya, and Transport for Air Transport Affairs Khaled Nasr. The delegation also included the Head of the Passports, Nationality and Foreigners Affairs Department, Youssef Murad and representatives from the Ministries of Justice, Labor and Rehabilitation, and Marine Wealth in addition to the Head of the Legalization Department at the Consular Affairs Department.
Libya fell into chaos after the NATO-backed overthrow of longtime leader Moammar Gaddafi in 2011.
The parliamentary and presidential elections on December 24th were called for by a United Nations (UN) political forum last year as part of a roadmap to end Libya's civil war. But disputes over the planned vote threaten to derail the UN-backed peace process.
A presidential vote in the first round is set for December 24th, and parliamentary elections have been delayed until January or February. However, the rules for the election have not yet been agreed.