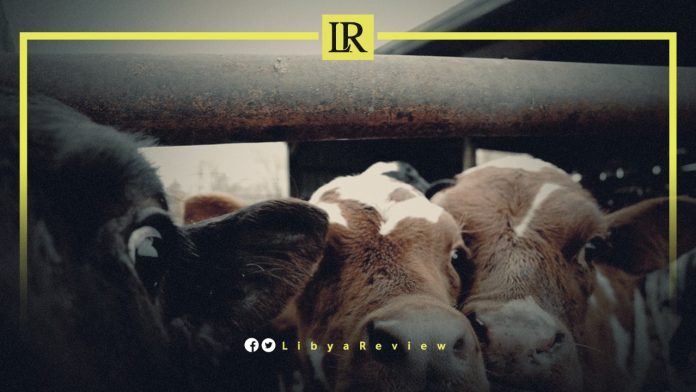 Egypt has banned the importing of animals and livestock from Libya, said the Head of the General Authority for Veterinary Services at the Ministry of Agriculture and Land Reclamation in Egypt, Abdel Hakim Mahmoud.
In statements to Cairo 24, Abdel Hakim Mahmoud confirmed that "foci of the Rift Valley Fever (RVF) disease for animals appeared in Libya, therefore Cairo decided to ban the import of animals from the neighbouring country."
Earlier, Abdel Hakim participated in a panel discussion to confront the threat of antimicrobial resistance facing human, animal and plant health, organized by the Food and Agriculture Organization (FAO) of the United Nations (UN) and the World Health Organization (WHO).
It is worth noting that the RVF is a viral animal disease that primarily affects animals, however it can also infect humans and by touching the blood or organs of infected animals. The disease is named after its original home in Kenya, where it first appeared in 1931 while investigating an epidemic that broke out among sheep on a farm in the Kenya Rift Valley. Since then, it has been reported in Sub-Saharan and North African countries.
In October 2021, the National Centre for Animal Health (NCEA) in Libya warned against the outbreak of the RVF in the country, says the State is in real danger that affects livestock and public health.
"The danger of the virus lies in it is quick transmittance through contact with infected animal and through the bite of certain types of mosquitoes registered in Libya," the centre said in a statement.
The NCEA confirmed that 3.1% of the infected people suffer from serious symptoms of encephalitis, hepatitis, viral hemorrhagic fever.
It noted that the death rate in livestock would reach 90% in small sheep herds, 70% of calves, as well as large-scale abortions among the animals.
"As a result of the high risk of this disease, it was investigated in the southern regions at the beginning of the year 2020 with the help of FAO," the centre said.
"Through the periodic monitoring and active investigation, it was confirmed that positive samples were recorded for the presence of antibodies to the disease in sheep and cows in Libya," it noted.
"We informed the relevant authorities, and developed a strategic plan for the control and prevention of the virus."
The centre also warned that if its demands are ignored and the "needed and urgent" capabilities are not provided, it cannot predict what the health conditions in the country may befall on.