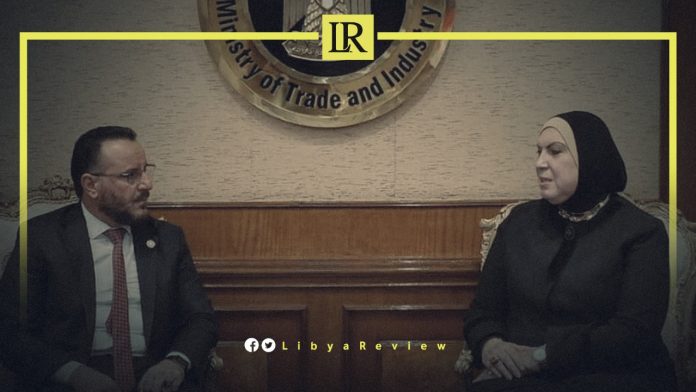 The Egyptian Minister of Industry and Trade, Nevin Gamea said that the volume of Egyptian exports to the Libyan market amounted to about $572 million dollars in 2020.
She explained that the most important exports were cement, food products, machinery, electrical equipment, aluminium, and tanning materials.
During a meeting in Cairo, Gamea and her Libyan counterpart, Ahmed Abu Hesa discussed facilitating the entry of Egyptian investors to Libya, and helping them to invest in the industry and mining sectors.
Abu Hessa's visit also aims to learn about the Egyptian experience in investing in industrial zones, and to visit several large factories.
The Egyptian minister pointed to the importance of increasing economic cooperation between the two neighbouring countries. She explained that the Libyan market is one of Egypt's largest export markets, as it ranks 11th globally and 4th in the Arab world.
In September, Libyan Minister of Economy and Trade, Mohamed Al-Hawij affirmed his aspiration to strengthen cooperation with Egypt in various fields.
During his speech on the sidelines of the Egyptian-Libyan Joint Higher Committee, Al-Hwaij praised Egypt's successful experience in the field of development. He also affirmed that Libya is ready to cooperate with Egypt in reconstruction projects.
It is estimated that the cost of reconstruction over a ten year period would reach 500 billion dinars ($111 billion dollars).
Rania Al-Mashat, Egyptian Minister of International Cooperation welcomed Al-Hawij and his accompanying delegation. She expressed her satisfaction about the resumption of the meeting of the Egyptian-Libyan Joint Higher Committee after more than ten years.
Al-Mashat said that these meetings aim to achieve integration and bilateral economic development. She also stressed the keenness of Egypt's political leadership to develop and strengthen relations and support efforts with Libya.
The meeting was attended by Salama Al-Ghweil, Libyan Minister of State for Economic Affairs, Libyan Transportation Minister, Mohamed Al-Shhoubi, and experts from both countries.
In April, Egypt's Prime Minister Moustafa Madbouly and his Libyan counterpart, Abdel-Hamid Dbaiba signed 11 MoUs to enhance bilateral cooperation in various fields.