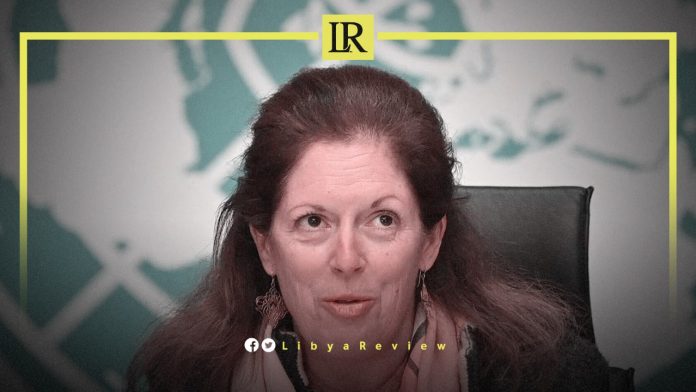 Special Adviser to the United Nations Secretary-General (SASG) for Libya, Stephanie Williams said that the UN will not tolerate "intimidation and attacks" on Libyan judges, stressing the importance of preserving the unity and independence of the Libyan judiciary.
Williams said during her meeting with the Chief of the Libyan Supreme Judicial Council, Mohamed Al-Hafi that "the United Nations will not tolerate intimidation and attacks on judges and judicial bodies."
"We agreed on the crucial importance of preserving the unity and independence of the judiciary, away from all political influence and disputes," she added.
On Monday, Williams arrived in Tripoli, where she met with several officials including the Head of the Presidential Council Mohamed Al-Mnifi, Acting Prime Minister Ramadan Abu Jnah, Foreign Minister Najla Al-Mangoush, and the Chairman of the High National Elections Commission (HNEC) Emad Al-Din Al-Sayeh, and the Speaker of the House-designate Fawzi Al-Nuiri.
She discussed the latest developments in the political process in Libya, and arrangements for the upcoming elections.
"The meeting reviewed the efforts of the UN mission in coordinating international efforts to resolve the Libyan crisis, and to cross the transitional phase peacefully. As well as the obstacles facing the upcoming Presidential and Parliamentary elections," Al-Mnifi's Media Office said in a statement.
Williams stressed the importance of commitment to the outcomes of the Libyan Political Dialogue Forum (LPDF), holding of the elections, and achieving the aspirations of the Libyan people in building a unified and democratic state.
She praised the efforts of the Presidential Council in unifying state institutions, initiating national reconciliation, and supporting the initiatives of the 5+5 Joint Military Committee (JMC).
Notably, Al-Mangoush affirmed the support of the Government of National Unity (GNU) for the electoral process, and its success despite the current difficulties.