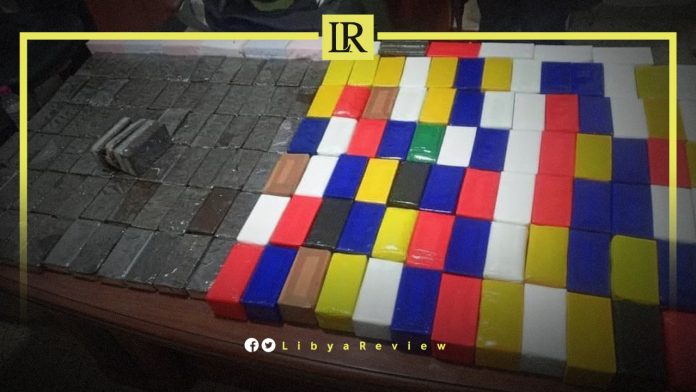 The Libyan Ministry of Interior announced seizing 70 kilograms of hashish which was in the possession of a drug smuggler. They caught the smuggler red-handed between Tobruk and Benghazi.
In a statement on Saturday, the Ministry said that members of the Sahel branch and Jardas Al Abid of the Narcotics and Psychotropic Substances Control Authority arrested one of the largest drug smugglers who was in possession of 70 kilograms of hashish.
The statement pointed out that the accused was arrested in the process of bringing drugs, in his vehicle, and with evidence, he admitted that he was transporting drugs from Tobruk to Benghazi.
Legal measures were taken against him and he was referred to the Public Prosecution with jurisdiction.
Last October, the customs department of the Misurata sea port announced the seizing of about 3.8 million narcotic pills on board a container coming from Malta, on Saturday.
In a statement, the port customs centre confirmed the seizing of a 40-foot container, suspected to be narcotic pills. A customs declaration was submitted and declared as "hospital beds" originating from Malta.
A committee was assigned to inspect the container and it found that there were cartons at the end. Upon opening them, they found that there were undeclared medicinal packages in the customs declaration, and they were suspected to be narcotic pills.
According to the statement, the contents of the container were returned, closed and impounded, and a report was referred to the Head of the Misurata port customs centre. A report of the incident was opened and the Public Prosecution was informed.
A committee was formed to inventory and count the quantity, which began its work in the presence of the Public Prosecution, the Head of the centre, Colonel Khaled Al-Dalaa, a member of the investigation department at the centre, the Head of the Anti-Smuggling and Narcotics Department.
The statement pointed out that the contents of the entire container were unloaded and the seized quantity of drug pills suspected of being narcotic was counted. 3,820,800 pills of medicinal pills bearing the name TAMOL-K 225 of Indian origin were found. It is known to be dangerous due to its chemical effects on the brain, causing damage to brain cells, including strokes, brain infections, extreme fatigue, weakness of the body's muscles, agitation and nervousness, auditory and visual hallucinations, lack of awareness and other damages.