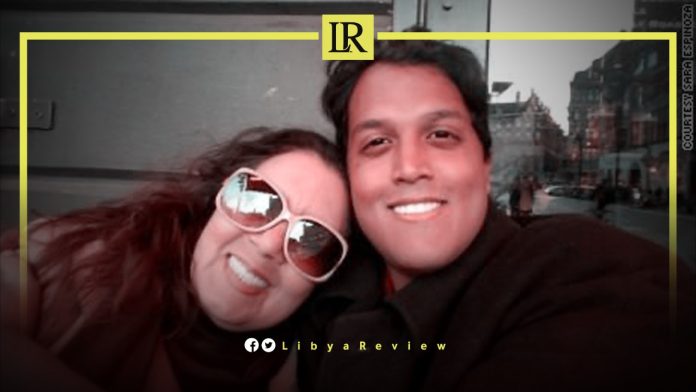 Fernando Espinoza, a 29-year-old American teacher and former US Navy submariner, disappeared in Libya five weeks after arriving in the country to start a new job at an international school in Tripoli.
He'd ventured south of the city for a weekend trip to a desert oasis, but on his return was picked up for questioning, his mother Sara said.
Sara had hoped to find her son and bring him home by Christmas Eve — the date set for Libya's first Presidential elections in almost a decade. Just days to the vote, the process has collapsed. It has since pushed the country closer to conflict as warring parties seek to replace a government set to lose its mandate.
"I'm relieved that I heard from him," she said of Tuesday's call, which was negotiated by the US Embassy in Tunisia, and Libyan authorities.
The US Embassy told CNN after the call that inquiries were being handled by the State Department. When asked for comment on Espinoza's status, the State Department said they were "aware of the detention of a US citizen in Libya."
"We are monitoring the situation, and due to privacy considerations, we are not going to go into specifics at this time," an official said.
In early October, Espinoza flew to Libya and a month later, on 4 November, he took a weekend trip to the Ubari desert to see the Gaberoun oasis, a salty lake once home to a Bedouin tribe whose abandoned village is now a local tourist site.
The region is contested by multiple groups, and experts have warned it's unsafe to travel through.
Espinoza hired a driver for the weekend trip, his mother said, nine hours south of Tripoli. From there, he would go to the desert oasis, about 58 miles (93 kilometers) west of the city of Sebha. He reportedly did not reach Sebha on time, according to text messages he sent his mom.
On the outskirts of Sebha, he and his driver were seized and held overnight. After his release, Espinoza continued his trip to the oasis and sent a photo of himself looking happy and relaxed before dropping out of contact again.
Sara said US consular officials in Tunisia told her they first spoke with Espinoza on 29 November, though she describes them as guarded in any information they shared. They told her that he "seems to be OK," and that he had asked for his medication — and to speak to his mother.
On Monday, US officials said they'd been granted a second consular phone call — which she could join. They cautioned that phone lines in Libya are unreliable, so she should prepare for disappointment in case the connection didn't work.
In the early hours of Tuesday morning, Sara heard her son's voice for the first time in over a month. She said the call was short, and she could tell other people, likely officials, were listening on both sides.
Espinoza told her he spends most of his time in a room except for occasional walks down a hallway. He doesn't go outside but sees sunlight through a window, and is taking his medication. There's still no official confirmation as to why Espinoza is being held.
Originally, the Embassy suggested he was being questioned due to visa issues.
An image of Espinoza's stamped passport obtained by CNN shows he entered Libya on a one-month visa on 5 October, meaning his visa would have expired around 5 November, when he was in the desert. The visa lists his occupation as "teacher" and names ISM as his sponsor.
The US hasn't had a diplomatic presence in Libya since July 2014, when it shut its Embassy after violent clashes between Libyan militias, according to a US government website.
The US State Department warns US citizens not to travel to Libya due to the risk of "crime, terrorism, civil unrest, kidnapping and armed conflict."