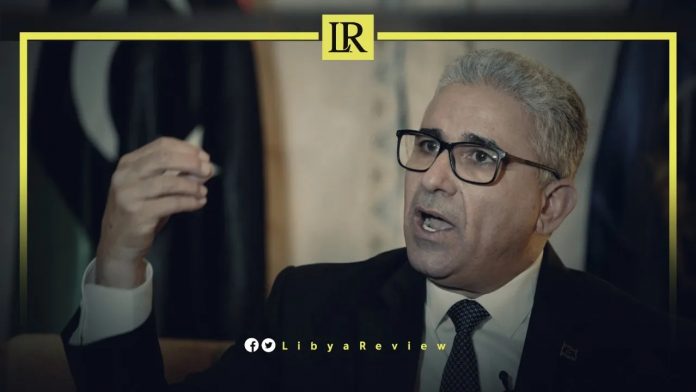 On Saturday, Libya's presidential candidate and former Interior Minister, Fathi Bashagha, criticized Britain for "defending the corruption of the government and financial institutions in Libya."
He also strongly denounced the statement made by the British Embassy, which demanded that the interim Government of National Unity (GNU) continue to lead Libya until elections.
"Corruption is leading Libya to bankruptcy. We want to ask Britain a question; why does the British government apply the best anti-corruption standards in its country, and want to protect corruption in Libya? Why is Britain defending the government and financial institutions in Libya?" Bashagha said in reference to Britain's support for the Libyan interim government headed by Abdelhamid Al-Dbaiba, and the Central Bank of Libya, which for ten years has been headed by Al-Saddiq Al Kabeer.
In a statement on Friday, the British Embassy said that it will continue to recognize the GNU as the authority tasked with leading Libya to elections and does not endorse the establishment of parallel governments or institutions.
In a joint statement issued by Britain, France, Germany, Italy, and the United States, the western countries said the transfer of power from the current interim executive authority to the new executive authority should take place following the announcement of the results of such early and prompt parliamentary and presidential elections.
They called on the Libyan authorities to respect the aspirations of the Libyan people for prompt elections by swiftly determining a final date for the polling and issuing the final list of presidential candidates without delay.
Meanwhile, the Foreign Affairs Committee of the Libyan House of Representatives (HoR) condemned Britain's statement, saying it is unacceptable interference in Libya's internal affairs.
The committee said that the British statement is a violation of diplomatic norms, and caused popular discontent throughout the country. It stressed that the Libyan people and through official institutions which represent them are the decision-makers in the affairs of their country.
On the other hand, many Libyan journalists, politicians and activists launched a hashtag campaign titled "#Expel_the_British _Ambassador_from_Libya" on Twitter.