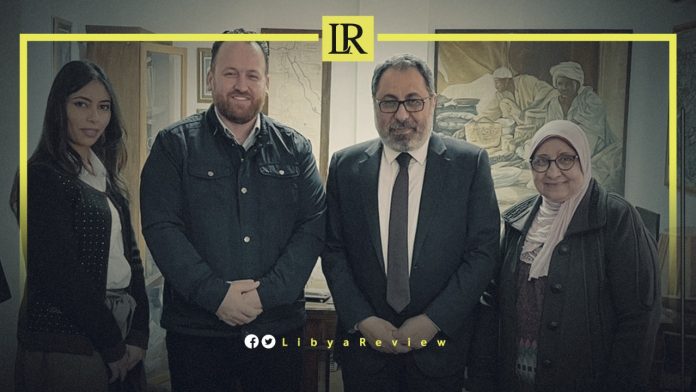 The Director of the International Cooperation Office at the Libyan Ministry of Culture, Omar Al-Tira met with the Head of the Central Administration for International Agreements and Cultural Programs in Egypt, Amir Nabih.
According to a statement by the ministry, the meeting was held in the presence of a member of the Libyan-Egyptian committee, Manal Al-Hamshari in Cairo. This was based on the directives of the Libyan Minister of Economy, Salama Al-Ghwail. The meeting discussed bilateral relations, and ways to enhance bilateral cultural cooperation.
The statement added that Nabih invited the Libyan side to participate in Egypt's World Heritage Arts Festival to be held in May. They agreed on the importance of expediting the signing of a memorandum of understanding to "promote and revive cultural cooperation and joint work in all cultural events."
The meeting also touched on the importance of Libya's participation in Ramadan events targeting Arab and Islamic countries, due to be held at the Cairo Opera House.
Notably, Egyptian Minister of Trade and Industry, Nevin Jameh revealed that the Libyan market was one of the largest for Egyptian exports in 2021. It ranked 9th globally, with exports worth $938 million, compared to $570 million in 2020, achieving an increase of 64.5%.
This came during her meeting with Al-Ghwail in Cairo. The two discussed ways to boost joint trade and investments in the coming period. "Egypt is keen on strengthening mutual cooperation with Libya in various fields, building on the deep-rooted ties between the two countries," Jameh said.
The minister added that there is currently close cooperation between Egypt and Libya in the manufacturing sector.
On his part, Al-Ghwail affirmed his keenness to strengthen joint economic cooperation, and confirmed the Libyan government's hope to benefit from the "successful Egyptian economic experience. Especially in the industrial sector, promotion of foreign trade, and development of the investment sector."