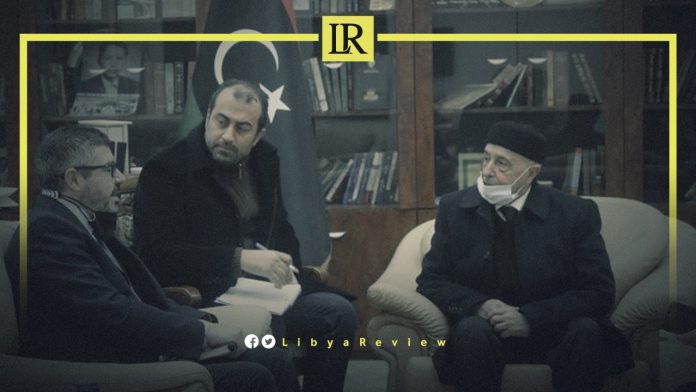 On Wednesday, the Speaker of the Libyan Parliament, Ageela Saleh met with the EU's Ambassador to Libya, Jose Sabadell in Al-Qubba city.
The meeting discussed the latest political developments in the country, with Saleh stressing, "We want a Prime Minister for all Libyans."
He pointed to the ongoing consultations with the High Council of State (HCS) on a number of issues. The most important of which is the amendment of the constitutional declaration, and the new government.
Saleh reiterated his support for the electoral process, and the holding of elections, "as it is the ideal solution to the Libyan crisis, after removing the obstacles presented by the High National Elections Commission (HNEC)."
On his part, Sabadell affirmed the European Union's support for the will of the Libyan people, as well as supporting the decisions of the Parliament.
Notably, the Ambassador stressed the need to preserve the unity and independence of Libya's sovereign economic and financial institutions. He pointed out the EU's readiness to provide all technical assistance for reunification.
This came after he met with the Deputy Governor of the Central Bank of Libya (CBL), Ali Al-Hibri in Benghazi. They discussed the issue of unifying the central bank, with the help of the international financial auditing company, Deloitte. In addition to the problems facing the bank, including liquidity management, bank balances, bank clearing, and public debt.
Al-Hibri stressed the need to hold a meeting of CBL's Board of Directors as soon as possible, after reviewing the financial and economic situation of the state. This is to discuss the most pressing issues, and ways to find short and long-term solutions.