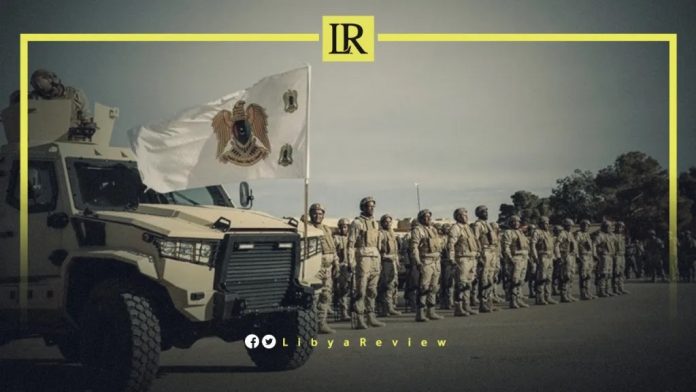 A Major General in the Libyan National Army (LNA) has called for international support to fight against terrorist groups, saying that the army was fighting terrorism on behalf of the world.
The Commander of the Southern Operations Room, Major General Al-Mabrouk Sahban added in statements to the 'Libya Al-Hadath' channel on Tuesday that the operations in Al-Qatroun against IS was carried out by Libyan efforts alone.
Notably, 24 IS militants were killed during three-day long clashes against the LNA near Al-Qatroun, in the southwest of the country
He stated that this operation is "part of the great work that the LNA has been doing for many years in the fight against terrorism." As well as adding that the operation was able to significantly weaken IS in the country.
"The operation led to the elimination of a large cell that entered from Sudan through the southern borders," Sahban noted.
He pointed out that this cell was planning to conduct terrorist operations in the south, and then move north to carry out operations in the east and west. "We collected information and conducted investigations to raid this cell before it was able to carry out operations," he added.
Sahban added that this cell was holed up in difficult mountainous areas and inside caves, "which made the LNA forces need two days to be able to eliminate it,"
"This is not the first operation, for over a year and a half there have been successive operations across the southern region. We have succeeded so far in eliminating many groups and fighting organized crime. The southern region has witnessed great stability, according to the testimony of everyone, including officials and the United Nations," he claimed.
On Friday, the LNA's Spokesman Major General Ahmed Al-Mismari said in a press conference that an IS militant was arrested, and four LNA soldiers were reported missing during the battles.
He added that the army kicked off a large-scale operation in the southern outskirts of Al-Qatroun, which is located some 200 kilometers from the borders with Niger and Chad. This is after they detected movements by IS cells around Mount 'Asida.
Several units of the LNA, including the Tariq bin Ziyad Brigade, the 73rd Infantry Brigade, and the 128th Military Battalion, took part in the operation. Libyan Air Force jets provided close air support for advancing LNA troops on the ground.