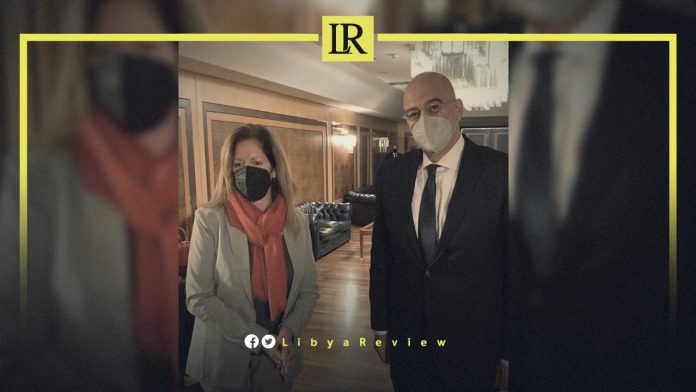 On Tuesday, Greek Foreign Minister, Nikos Dendias met with the Special Adviser of the UN Secretary-General to Libya, Stephanie Williams in Rome.
The Greek Foreign Ministry said Dendias stressed that the memorandum signed between Ankara and Tripoli is "illegal, null and of no value. " He also emphasised Greece's "constructive" position towards the stability of Libya.
"During a meeting with @SASGonLibya in Rome, we discussed the latest developments in Libya. I stressed the issue of the invalidity of the illegal, null & void "memorandum" between Turkey & Libya and reiterated Greece's constructive stance on promoting Libya's stability," Dendias tweeted.
Williams stated that she was pleased to meet Dendias, noting that she briefed him on the latest developments in Libya. As well as thanking him for his offer to support the UN work in Libya.
In 2019, the previous Government of National Accord (GNA) and Turkey signed two agreements on military cooperation, and maritime boundaries in the Mediterranean sea.
The military agreement aims at ensuring the protection of Turkey's interests in Libya, strengthening bilateral ties, and allowing Ankara's direct intervention in the country. It also allowed for Turkish troops to be sent to Libya, at the request of the Libyan government.
Notably, Dendias called on Turkey to immediately recognize the nullity of the maritime agreement. He described Turkey's stance on Greece as, "the epitome of irrationality."
He also stressed that Athens is committed to peace and stability in Libya. As well as supporting the principle of non-intervention in domestic issues.
Turkey slammed Dendia's statements, saying the statements "do not serve peace and stability."
"The anti-Turkey statements made by Greek Foreign Minister (Nikos) Dendias almost every day are populist and unrealistic claims that do not serve peace and stability," Turkish Foreign Ministry Spokesman, Tanju Bilgic said in a statement.
"This provocative discourse is neither compatible with good neighbourly relations, nor with the spirit of the consultative talks we have relaunched with Greece," Bilgic added.