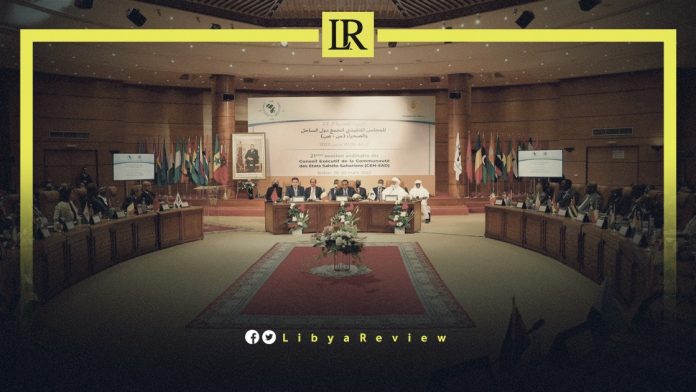 The Executive Secretariat of the Community of Sahel–Saharan States has agreed to send a mission to Libya, to assess the security situation. This is in anticipation of the decision to return the assembly's headquarters to Tripoli.
This came in the final statement of the preparatory meeting for the 21st regular session of the community, which was hosted in Rabat from 28-30 March.
The statement, published by the Moroccan News Agency, stated that the decision falls within the exclusive competence of the Assembly of Heads of State or Government.
The community commended the "progress made in Libya," welcoming the positive developments in the political situation.
The participants in the meeting expressed their regret over the "persistence of the phenomenon of terrorism." They stressed that the creation of a center to combat terrorism "is one of the answers that the assembly must discuss through close cooperation between national interests."
They called for the effective integration of the group's activities with other regional economic organisations and groupings, to avoid duplication.
On Thursday, Amnesty International denounced a shocking video depicting an extrajudicial execution, by Libya's Joint Operations Force (JOF). This is a state-financed militia, also known as Al-Moshtaraka, and it "offers a grim reminder of the deadly consequences of impunity for militias and armed groups in Libya."
It added that its Crisis Evidence Lab has reviewed footage taken by a security camera in Misrata on 6 March. It shows 27-year-old Altayeb Elsharari running away from armed men, before being gunned down.
"At least one shot was fired from a distance of about seven metres. He can then be seen collapsing on the ground as eight men in military attire surround him, before taking him away in the back of a military car with a visible JOF logo," it noted.
"This close-range killing in broad daylight is yet another chilling example of the entrenched impunity enjoyed by militias, whose crimes have gone unpunished for far too long. The Libyan authorities must promptly and effectively investigate this extrajudicial execution, and ensure that those responsible are held to account," said Diana Eltahawy, Deputy Director for the Middle East and North Africa at Amnesty International.
"It is shameful that the Libyan authorities are actively rewarding these abusive groups for their criminal behaviour. The authorities must urgently stop financing militias, and integrating militiamen into state institutions without vetting. In order to remove those reasonably suspected of responsibility for crimes under international law," she added.