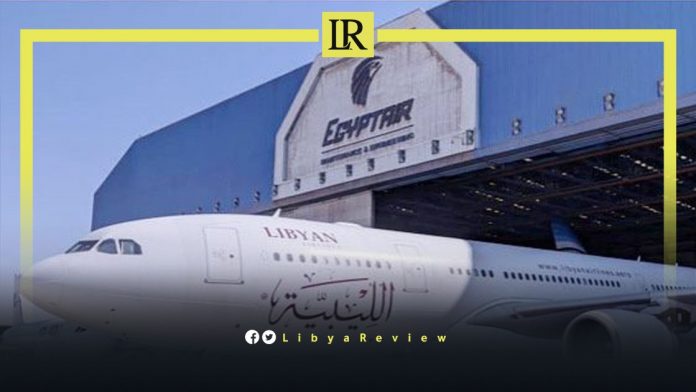 EgyptِAir Maintenance and Engineering Company said that it had finished preparing a plane belonging to Libyan Airlines. The Airbus A320 with registration letters 5A-LAK had been stored at the Benghazi airport for a long period of time.
The front lower carriage of the plane was altered and the entire plane was completely painted with the Libyan Airlines logo.
Engineer Yahya Zakaria, the Chairman of the Board of Directors of EgyptAir Maintenance and Engineering, said that relations with Libyan companies are among the company's priorities. He added that this is part of the implementation of Egypt's vision towards supporting Libya in various fields. This further falls within the framework of the good historical relations that unite the two companies.
He added that, "there is a technical cooperation for many years with Libyan Airlines and many Libyan airlines."
The Libyan side welcomed the cooperation with EgyptAir, especially the company's efficiency and the quality of services provided.
Notably, Cairo International Airport received its first flight from Tripoli in September 2021. The Egyptian Civil Aviation Authority suspended flights between Libya and Cairo in 2014. This was due to insecurity and political turbulence rampant in Libya.
The announcement to resume flights came after Libya's Transportation Minister, Mohamed Al-Shoubi, participated in the 11th session of the Libyan-Egyptian Joint Higher Committee last year.
Libya has remained beset by turmoil since 2011, when long-time ruler Moammar Gaddafi was ousted and killed in a bloody NATO-backed uprising.
Presidential elections were due to be held on the 24th of December 2021. However, these were postponed indefinitely over technical and legal issues, according to the High National Election Commission (HNEC).
The country is currently facing a political crisis after the Libyan Parliament swore in a new Prime Minister, Fathi Bashagha, to lead a new interim government in February. Members of Parliament (MPs) argued that the Prime Minister of the Government of National Unity (GNU), Abdelhamid Al-Dbaiba's, mandate expired when the elections failed to take place.