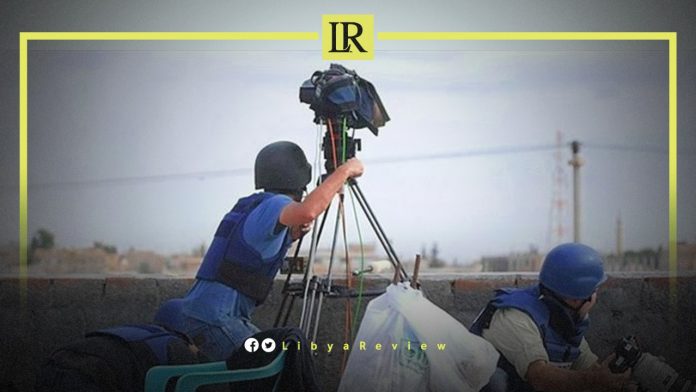 The United States Embassy in Libya called for the protection of journalists, and the freedom of expression in Libya.
In a thread on its Twitter account, the Embassy said: "In many countries, journalists risk their lives to inform the public and hold governments accountable. On World Press Freedom Day, we must resolve to protect journalists and the freedom of expression, offline and online, in Libya or in any country."
It added that "the detention of 218TV's Ali al-Rifawi or the extra-judicial killing of blogger Altayeb Elsharari are recent examples showing that there is still work to do in order to guarantee press freedom."
Last month, Reporters Without Borders demanded the immediate release of Al-Rifawi, who has been detained in Sirte since 26 March.
In a tweet, the organization held the Internal Security Agency (ISA) responsible for the kidnapping of Al-Rifawi. It also discussed the difficult conditions faced by journalists in Libya.
Previously, the administration of 218TV had issued a press release regarding the arrest of Al-Rifawi. It held the ISA in Sirte responsible for the safety of its correspondent.
"The arbitrary arrest of Al-Rifawi violates all laws of media freedom and personal freedom," it said.
218TV called on all local and international human rights organisations to coordinate, and work for his release. It stressed that it remains neutral in covering all events in Libya, far from political quarrels, and party affiliations.
"The reporters will be subject to detention and interrogation for reporting on the work of the Sirte municipality," the Commander of the ISA told his relatives, according to 218TV.
"His reports have inflamed public opinion in Libya," he added.
Notably, the United Nations Human Rights Council expressed its concern over the deepening crackdown on civil society in Libya.
It said in a statement that arbitrary arrests, and recent social media vilification campaigns are having a serious effect on human rights defenders, humanitarian workers, and other civil society actors in Libya.
"Members of the ISA and state-affiliated armed groups have arbitrarily detained human rights defenders, and civil society actors. They have subjected them to torture, verbal harassment, and intimidation," the statement added.
It urged the Libyan authorities to launch prompt and effective investigations into the alleged human rights violations. As well as hold all alleged perpetrators to account, including members of the ISA.