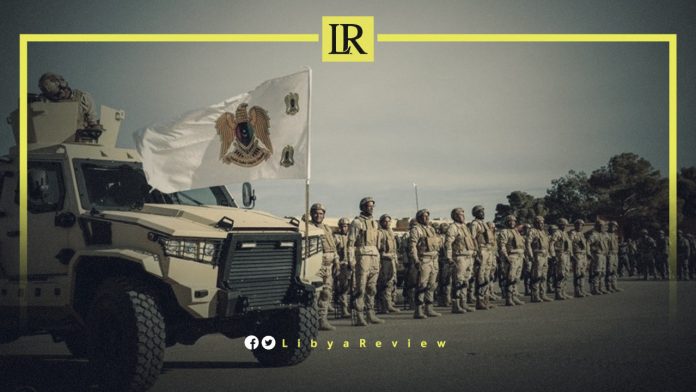 The Libyan National Army (LNA) has deployed extra troops in the south of the country, given a rise in tensions near the Chadian borders.
The media official of the LNA, Ageela Al-Saber told Sky News Arabia on Tuesday that they deployed the "106th Brigade to the city of Murzuq, in the far south of Libya, close to the Chadian border."
Al-Saber explained that the brigade's units were deployed to control the security situation. This coincides with the return of a number of families, who were displaced from Murzuq years ago.
As well as to "secure the Libyan borders and remote cities, and confront cross-border activities."
"The LNA has sent reinforcements in all strategic directions, and is monitoring the movements of terrorist elements in the south and west of Libya," he noted.
Local sources told Sky News Arabia that the mining area in the Kouri Bogoudi area "always witnesses confrontations between competing tribes, who live in Chad, Libya, and Sudan."
The sources pointed out that the recent confrontations took place between the tribes of Mahamid and Tama on Monday. This resulted in the death of several people, and damage to some shops. The Chadian army was unable to control the situation, and the unrest remains ongoing.
Last month, a Chadian military official said youths who travel to Libya are being used as mercenaries, and are unable to return, "because of their involvement in hostilities."
"Individuals with bad intentions want to enrich themselves at the expense of the youth's future, by selling them the dream of a decent life on the other side," he said.
Chad and Sudan have previously confirmed the difficulties related to accepting former armed elements and rebels active in southern Libya.
Decades ago, Chadian mercenaries and rebels settled in southern Libya, to launch raids against N'Djamena.
Libya fell into chaos in 2011 after a NATO-backed uprising toppled long-time leader Muammar Gaddafi. Militants in neighbouring countries have moved to oil-rich Libya to work as mercenaries or human traffickers.
Earlier, Kingabe Ogouzeimi de Tapol, a spokesman for the Front for Change and Concord in Chad (FACT), said that there are many Chadian rebels still present in Libya.
In an interview with the Italian news agency Nova, de Tapol expressed his regret that elections were not held in Libya, where there are many Chadian rebels.
"They understand the need to return," de Tabol said, referring to Chadian militants in Libya. "In the past, we were in Libya to fight ISIS, but today we know that we must go back to our country."