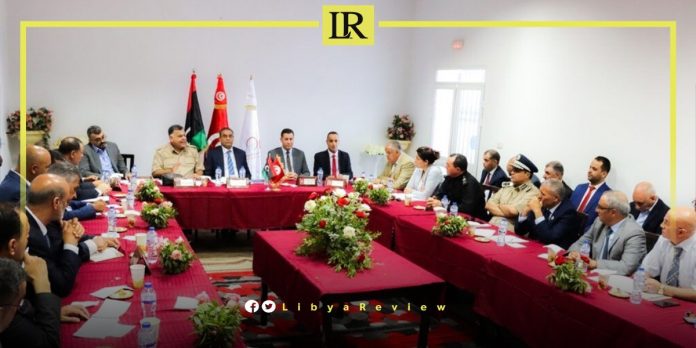 A high-level bilateral meeting was held between Libya and Tunisia on Tuesday to discuss bilateral cooperation, and resolve the issues at the Ras Jedir border crossing.
The Libyan delegation included the Minister of Transport, Mohamed Al-Shoubi, the Minister of Interior, Khaled Mazen, the Minister of Local Government, Badr El-Din Al-Toumi, the Mayor of Zuwara, and a number of customs and security officials.
From the Tunisian side, the meeting included the Minister of Transport, the Mayor of Ben Gardane, the Heads of security controls at the border crossings, and members of the border police.
The Ministry of Interior stated that the meeting dealt with the bottlenecks at the Ras Jedir crossing, and urgent solutions to ensure the flow of passengers and goods.
The ministry also announced a plan to develop service facilities at the crossing. They agreed to organise an inspection visit during the coming period, to see the progress achieved.
Last Friday, Tunisian President, Kais Saied said he rejected any attempt to divide neighbouring Libya. He stressed that Tunisia's position "supports a peaceful Libyan-led solution away from foreign interference."
During his meeting with Libya's Foreign Minister at the Tunisian Presidential Palace, Saied said that Tunisia is committed to the unity of Libya. He stressed that the security and stability of Libya is part of the security and stability of Tunisia.
"I reiterated Tunisia's constant readiness to stand by our brothers in Libya, to support their efforts to reach a political settlement that would enable them to devote themselves to development and reconstruction," Saied said.
The Tunisian President pointed out that Tunisia respects the choices of the Libyan people. "We are confident that the Libyans have all the capabilities that will enable them to succeed in getting out of this critical situation," Saied added.