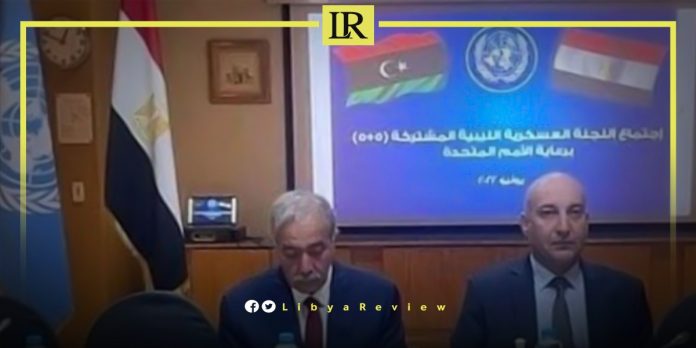 On Thursday, Chief of Staff of the eastern-based Libyan National Army (LNA), Lieutenant-General Abdulrazek Al-Nathouri held talks with his counterpart from the outgoing Government of National Unity (GNU), Major General Mohamed Al-Haddad in Cairo.
During the meeting, the two military commanders stressed the need to evacuate all foreign forces and mercenaries from Libya.
They also highlighted the importance of working to build confidence between the two parties, in order to "thwart any schemes seeking to destabilize the country and drag it into a non-ending war."
In addition, they affirmed their keenness to ensure the success of talks to settle the crisis, and restore the unity of the Libyan military institution.
The military officials voiced their determination to move forward in observing the terms of the Geneva agreement. Especially with regards to dismantling all armed groups, and integrating them into a unified army.
The meeting was attended by members of the Libyan 5+5 Joint Military Commission (JMC), and the UN Secretary-General's Special Adviser for Libya, Stephanie Williams.
The JMC comprises of five military officials from the eastern and western sides of the Libyan conflict. This was one of three tracks in the settlement process, that emerged from the Berlin Conference on Libya in mid-January 2020.
The military talks kicked off in Cairo on Wednesday. It hopes to build on the achievements made by the commission, since the signing of the ceasefire in October 2020.
This comes as Cairo is hosting the third round of constitutional track meetings, under the auspices of the UN Mission (UNSMIL). This is between members of the Libyan Parliament, and High Council of State (HCS).
The third round of meetings aims to reach a constitutional path, in order to hold Presidential and Parliamentary elections in Libya.
The talks come a few weeks after brief clashes took place between rival forces in Tripoli, as the Parliament-appointed Prime Minister, Fathi Bashagha failed to enter Tripoli.