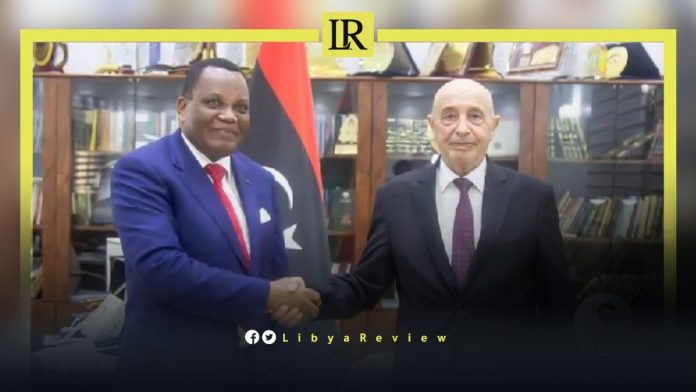 The Head of the Foreign Affairs Committee of the Libyan Parliament, Youssef Al-Agouri denounced the Government of National Unity's (GNU) attempt to prevent an African Union delegation from travelling to Benghazi. The delegation was headed by the Minister of Foreign Affairs of Congo-Brazzaville, and the African Union's Ambassador to Libya, Jean-Claude Gakosso.
In a statement, Al-Agouri said that the GNU's Foreign Ministry attempted to stop the delegation's travel. He confirmed the Parliament's keenness to unite all international efforts, especially the role of the African Union, in returning peace and stability to Libya.
"The delegation was scheduled to visit the city of Al-Qubba and Benghazi on Thursday, to meet with several officials, most notably Speaker of the Parliament, Ageela Saleh. This is part of the AU's work to support peace and encourage political dialogue," he said.
Al-Agouri explained that "although the delegation completed all the administrative procedures related to the visit, the ministry insisted on not giving permission for the delegation's plane to leave Tunisia for Libya, in violation of all recognized diplomatic norms."
He pointed out that "what the ministry has done greatly harms the image of Libyan diplomacy and Libya's leading role in supporting the efforts of the African Union. It disregards the relations of brotherhood and friendship with our African brothers."
On Thursday, Gakosso affirmed that the "legitimacy of the Libyan government headed by Fathi Bashagha is flawless." He expressed his hope that the government would "play the most prominent role in promoting the national reconciliation that the African Union seeks to establish in Libya."
This was during his meeting with the Deputy Prime Minister of the Libyan government, Ali Al-Qatrani in Benghazi. Gakosso and his accompanying AU delegation hailed the Libyan National Army's (LNA) role in fighting terrorism, describing it as "the backbone of establishing security and stability in the North African country."