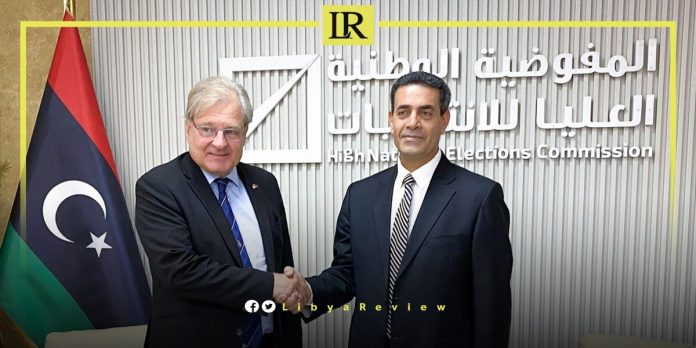 Head of Libya's High National Elections Commission (HNEC), Emad Al-Sayeh said the commission is "technically ready to hold elections, as Libyan voters demand."
Al-Sayeh told the US Ambassador to Libya, Richard Norland that "the only remaining obstacles are political in nature," according to a statement issued by the US Embassy on Wednesday.
The Embassy added that the US "is encouraged by the spirit of consensus at the UN-facilitated talks in Geneva between the Libyan Parliament Speaker, Ageela Saleh and Head of the High Council of State (HCS) Khaled Al-Mishri."
The statement stressed that "there is no alternative to elections, as a key part of resolving Libya's years of turmoil."
Saleh and Al-Mishri are holding a two-day meeting in Geneva, focusing on finalising transitional measures, and holding elections. This is according the UN Special Advisor on Libya, Stephanie Williams, who is attending the meeting.
"It is now the time to make a final and courageous effort to ensure that this historic compromise takes place, for the sake of Libya, the Libyan people, and the credibility of its institutions," Williams said in her opening speech.
Al-Sayeh said earlier that the elections could be held in December 2022 if both parties agree on election laws by July.
The long-awaited Libyan elections were supposed to be held on 24 December 2022. HNEC said that a "force majeure" prevented it from organizing the elections, after political parties failed to reach an agreement.
The Parliament has withdrawn confidence from the Government of National Unity (GNU) led by Abdel-Hamid Dbaiba and appointed Fathi Bashagha to replace him. Dbaiba has since refused to cede power to his rival.