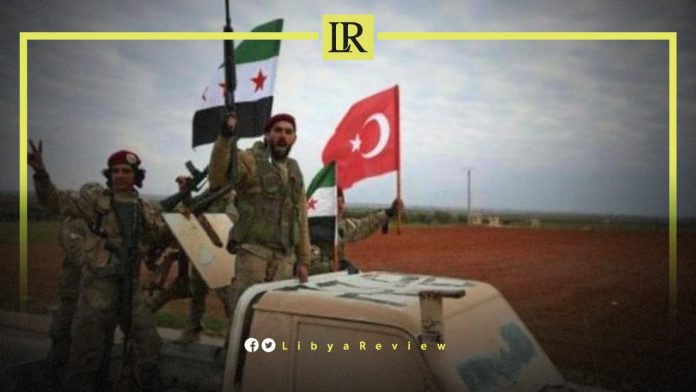 The Syrian Observatory for Human Rights (SOHR) reported that the Yarmouk camp, in which Syrian mercenaries are located in the Libyan capital, Tripoli, is witnessing an escalation of disputes between the mercenaries. This is due to the fact that they cannot take vacations to Syria and because mercenary exchanges have stopped.
Many of the mercenaries have been in the Libyan camps for about two years without having returned under leave or exchanges to Syrian territory.
The SOHR sources confirmed the escalation of disputes between the members of the "Sultan Murad" and "Suqur Al-Shamal" factions, as their leaders continued to steal parts of their salaries. In addition, the elements are living on their salaries without being provided with food allowances.
In the meantime, two Syrian mercenaries fled the camp, in coordination with smugglers, and entered Algeria illegally with the aim of reaching Europe. Turkish intelligence arrested the brother of one of the fugitives to pressure the fugitive to return to Libya.
Last month, the leadership of Turkish forces in Libya informed the Syrian mercenaries of the cessation of back-and-forth transfer operations until the end of 2022 without explaining the reasons, sources told the SOHR.
According to the SOHR, Turkish forces have also informed mercenary commanders that they are willing to send an aircraft only when necessary.
On May 9th, reliable sources informed the SOHR that preparation was underway in the northern Aleppo countryside, which is controlled by Turkish forces and their proxies, to send a new group of mercenaries to Libya. The group comprised of nearly 75 members of various Turkish-backed factions.
This group was scheduled to leave Syrian territory for Turkey late this week to transfer them to bases in the Libyan capital Tripoli. This is part of a back-and-forth transfer operation, where 50 mercenaries would return to Syria.
According to reliable sources, the mercenaries would receive only $200 after their salaries during the past periods ranged from $500 and $700 to $2,500 during the war in Libya.
According to the SOHR's sources, the last group of mercenaries returned from Libya to Syria nearly two weeks ago after their contracts ended.