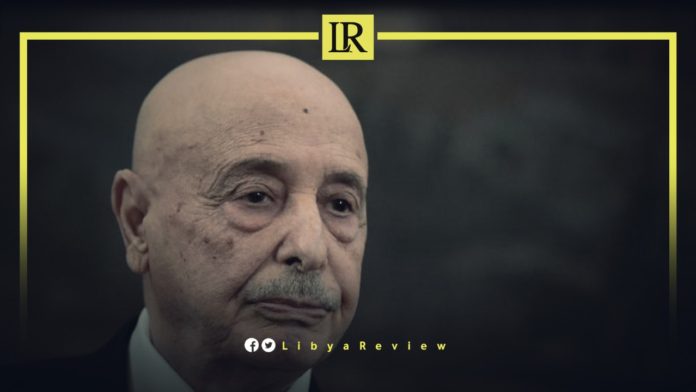 The Speaker of the Libyan House of Representatives (HoR), Ageela Saleh, accused supporters of the former regime of deliberately setting fire to the Parliament headquarters in Tobruk, East of the country.
In press remarks to Al-Arabiya news, Saleh said burning the Parliament headquarters is a premeditated act to overthrow the legislative authority.
"The supporters of the former regime stormed the Parliament headquarters and we hold them responsible for that. We will deal with those who burned the parliament headquarters in accordance with the law, and no one will be spared," he added.
He claimed that the demonstrators marched to the Parliament headquarters "without specific demands." However, protesters have called for holding elections as soon as possible and also called for a solution to the power outage.
Saleh also blamed the outgoing Government of National Unity (GNU) led by Abdelhamid Al-Dbaiba for failing to hold the elections.
"I know the extent of the suffering of the Libyans. The Central Bank of Libya (CBL) did not liquidise funds to the newly approved government of Fathi Bashagha, and also the salaries were not paid," he said.
"The Libyans suffer from poor services, including electricity, and they have the right to demonstrate. I will meet young men from the eastern region on Sunday to clarify matters," he added.
The Parliament Speaker said that the dispute over the constitutional path with the High Council of State (HCS) is related to the candidacy of dual nationals and military personnel.
"We will not prevent any Libyan from running for election. More than 20 people with dual nationalities have applied for the presidential elections. No one is excluded and we must allow everyone to run for office, and the Libyans will decide who they will vote for," Saleh said.
He affirmed the rejection of the United States (US) Ambassador's interference in the Libyan affairs, explaining that his proposal regarding the elections is a call for the "continuation of the division."
Saleh revealed that a senior Turkish official will visit Libya after Eid Al-Adha to meet with Prime Minister Bashagha. "My personal assessment is that Turkey no longer supports the Al-Dbaiba government," he said.