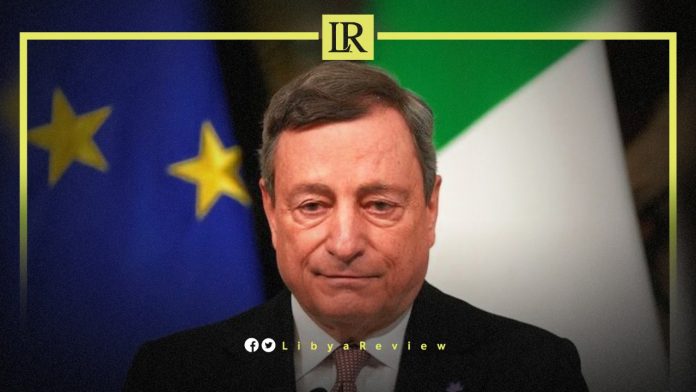 On Tuesday, Italian Prime Minister, Mario Draghi said that peace and stability in Libya are "priority goals" for Italy and Turkey, the Italian news agency, Nova reported.
Draghi made these statements, during a joint press conference with Turkish President, Recep Tayyip Erdogan at the conclusion of the intergovernmental summit in Ankara.
"We agreed that we must do everything in our power to restore peace and stability to Libya. Our coordination will be closer in the future, and we decided to work closely together," Draghi said.
Last month, the Italian Consulate General in Benghazi announced that it has begun granting tourist visas to Libyan citizens. In April 2021, Italy reopened its Consulate in Benghazi, and appointed Carl Batori as Consul General. It was closed in 2013, after gunmen attempted to attack the Consul on 12 January that year.
Meanwhile, the Turkish Parliament approved a motion to extend the mission of the Turkish troops in Libya for additional 18 months, starting from 01 July 2022.
A memorandum signed by President Erdogan indicated that "the efforts initiated by Libya after the events of February 2011, to build democratic institutions, were in vain due to armed conflicts that led to the emergence of a fragmented administrative structure in the country."
It noted that the aim of sending Turkish forces to Libya "is to protect national interests within the framework of international law, and to take all necessary precautions against security risks emanating from illegal armed groups in Libya."
According to the Italian Trade Commissioner, Romano Baruzzi, Italy's exports to Libya grew in the first quarter of 2022 by 52.3% compared to the same period of the previous year. This had an export value of €370.60 million euros.
In remarks to Libya's Sada newspaper, Baruzzi pointed out that imports from Libya grew by 116.44% worth a total of €2.07 billion euros.
He added that Italy is the first market for Libyan exports with a market share of 24.67%, ahead of Germany 11.6% at €973.89 million euros, Spain 11.04% at €926.45 million euros and China 8.94% at €750.36 million euros.