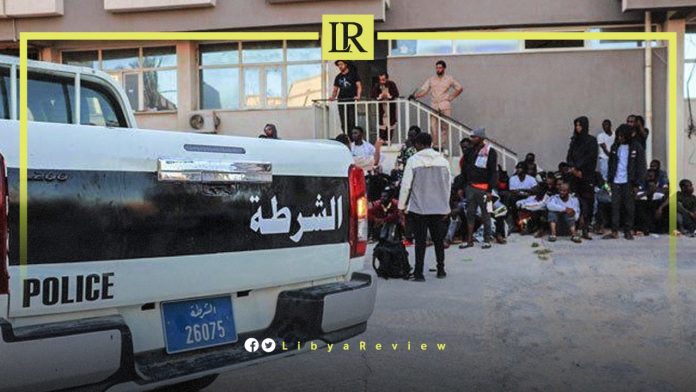 On Saturday, the Sabratha Security Directorate announced the arrest of a group of migrants who were preparing to emigrate by sea.
In a statement, the Directorate indicated that its security patrols were able to raid a den used to smuggle migrants. It added that this was an implementation of the security plan to secure the city during the Eid al-Adha holiday.
The statement confirmed that legal measures were taken regarding the incident and they were detained in preparation for referring them to the competent authorities.
On Friday, the Head of the Foreign Affairs Committee of the Libyan Parliament, Yousef Al-Agouri, denounced human smugglers, after a sharp increase in drowning off the Libyan coast.
Al-Agouri stressed that smuggling gangs "take advantage of the difficult conditions that migrants are going through, in order to make money at the expense of their suffering."
He pointed out that "economic and security crises in the region have pushed more and more people to leave their countries, in search of better opportunities."
The Member of Parliament (MP) noted the importance of joint action with neighbouring countries, especially the European Union (EU). In order to enhance security across Libya's borders.
Al-Agouri called for combating human smuggling networks, and strengthening the capabilities of Libyan search and rescue agencies. As well as calling for urgent help to countries most affected by crises.
He expressed his "deep regret and sadness at the reports received about the increasing number of drownings off the Libyan coast by migrants trying to cross the sea to reach southern Europe."
He praised the efforts of the Libyan Coast Guard, and its rescue operations for those stranded at sea. Despite a lack of resources, in relation to the scale of the humanitarian disaster.
Al-Agouri called on the Libyan Coast Guard to make more effort to respond to distress calls. He thanked all local institutions and international organizations that have provided aid. As well as emphasising that "all information that is published about drownings must be verified."