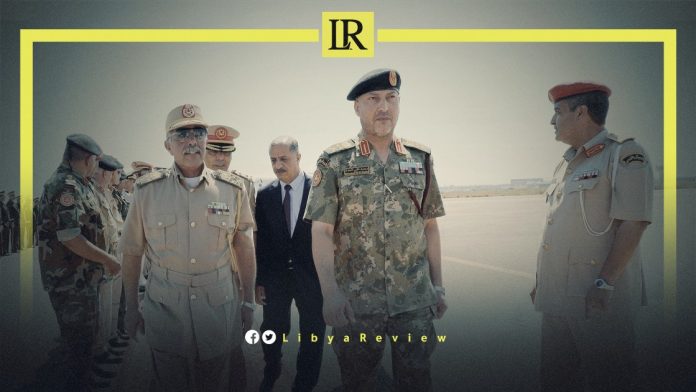 On Monday, the Chief of Staff of the Libyan National Army (LNA), Lieutenant-General Abdulrazek Al-Nathouri held talks with the Chief of Staff of the Government of National Unity (GNU) Major General Mohamed Al-Haddad in Tripoli.
The meeting was attended by members of the 5+5 Joint Military Commission (JMC).
According to the LNA's Director of the Moral Guidance Department, Major General Khaled Al-Mahjoub, the meeting aims to review ways to reunify the Libyan military. This comes as part of the Sirte meetings between the two Libyan camps.
The meeting also discussed the importance of maintaining the ceasefire, and avoiding a renewal of violence.
A western JMC, Mustafa Yahya stated that the committee is working to preserve the ceasefire agreement throughout the country. As well as implementing the full terms of the agreement, including coordinating arrangements for the withdrawal of mercenaries and foreign fighters from Libya.
Yahya called on all political parties to give priority to the interest of the country, to secure a stable Libya.
The two senior military officials met earlier this year at the Mahari Hotel in Sirte. They discussed the unification of the military institution.
In January, JMC member Lieutenant-General, Khairi Al-Tamimi said that this was a continuation of a previous meeting within the framework of a program to unify the military institution, and build confidence between the two parties.
Al-Tamimi added that "this step goes in the right direction." The Libyan newspaper, Al-Mustaqbal, quoted sources as saying that the meeting discussed the current arrangements for the deportation of foreign fighters.
Libya has two rival armies present in the East and the West. They were engaged in fierce conflict, before signing a UN-brokered ceasefire agreement in October 2020.