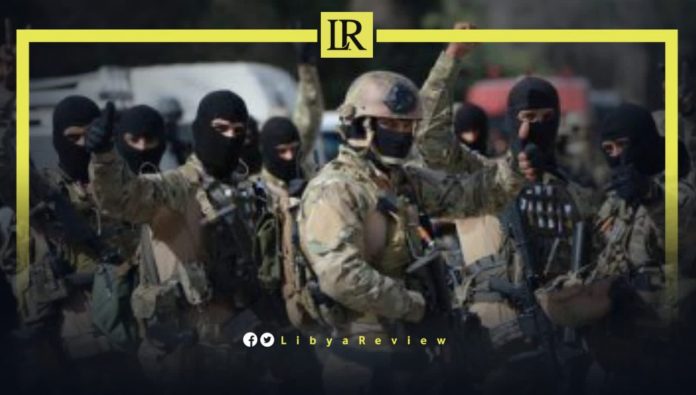 The Tunisian Ministry of Defence announced that a soldier was killed during clashes with smugglers near the Libyan border, according Al-Arabiya TV.
The ministry said in a statement on Monday that a border guard patrol exchanged fire with smugglers in six vehicles, near the Libyan-Tunisian border. The smugglers were coming from Libya, and wanted to travel to Algeria via Tunisia, according to the statement.
"Tunisian border guards confronted the smugglers and exchanged fire. The smugglers fled towards Libya again after a soldier was killed during the clashes," the statement explained.
Earlier, the General Administration of the Tunisian National Guard said that maritime units had thwarted 37 illegal immigration operations. The units also managed to rescue 455 migrants, including 289 Africans, and 166 Tunisians.
Last month, the Stabilization Support Apparatus (SSA), affiliated with the Tripoli-based Government of National Unity (GNU), announced the closure of the country's western coast, starting from Tripoli to the Tunisian border.
In a statement, the agency said that a military operation would be launched to secure the western coastal region in the country. It explained that the region would remain closed until the end of the operation.
"The military operation aims to combat illegal immigration, drug dealers, and fuel smuggling. Those who are arrested will be referred to the Attorney General within 24 hours," the agency explained.
In June, Tunisian security forces at the Ras Jedir border crossing with Libya arrested two Tunisian travellers, as they attempted to smuggle almost 3,000 narcotic tablets from Libya to Tunisia.
The media office of the border crossing said in a statement that the two were suspected, as they entered carrying bags containing some goods. They were asked to pass their bags on the x-ray. Security found 2,925 Pregabalin 300 mg tablets inside the bags.
In May 2021, Head of Libya's Interpol National Central Bureau, Adel Bentaleb claimed that there has been a marked increase in drug traffickers using Libya as a transhipment point. This includes drugs from as far as South America.
"While many of these drugs are neither produced nor consumed here, this has not spared us from the violent crime inevitably wrought by such activity, which we are determined to combat alongside INTERPOL," Bentaleb said.
INTERPOL has said drugs worth nearly €100 million euros have been seized in Africa and the Middle East, during a large international police operation in March and April of 2021.