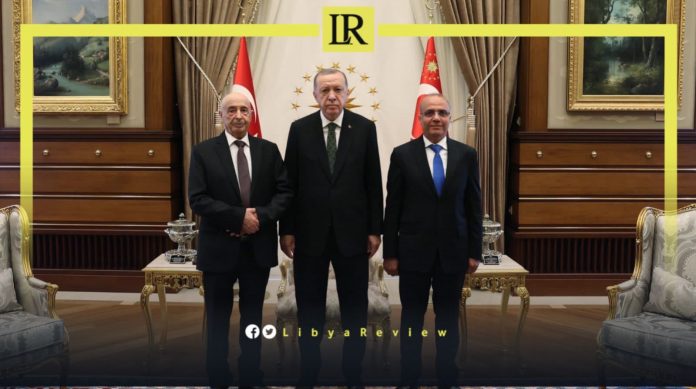 Turkey's top officials, including President Recep Tayyip Erdogan, received the Speaker of Libya's eastern-based Parliament, Ageela Saleh this week. This signals a significant policy shift in the Libyan crisis, two years after Ankara lent military support to the former Tripoli-based government against eastern forces, led by Field Marshal Khalifa Haftar.
Saleh also met with his Turkish counterpart, Mustafa Sentop during the visit to Ankara. Abdullah Al-Lafi, Deputy Head of Libya's Presidential Council accompanied him on the trip.
Saleh sought support for the Parliament-designated government, led by Fathi Bashaga. He noted that holding Parliamentary and Presidential elections are a priority, and Turkey's backing was important to achieve peace and stability in Libya.
Sentop stressed that Turkey saw Libya as "an inseparable whole" and did not discriminate between regions. The Turkish Parliament's Libya Friendship Group is planning a visit to Libya, including the east, he claimed.
Power struggles have kept Libya fractured since the warring parties sealed a ceasefire deal in 2020. The country ended up with two rival governments after plans to hold elections in December 2021 failed.
The Parliament appointed Bashagha as Prime Minister in March, but the incumbent PM Abdel-Hamid Dbaiba in Tripoli, has refused to cede power before elections. Bashagha has been repeatedly barred from entering Tripoli by armed groups loyal to Dbaiba.
Saleh is known for his rejection of two crucial agreements that the now-defunct Government of National Accord signed with Turkey in 2019.
The first allowed for the deployment of Turkish troops to train and support Libyan forces. The second delineated maritime borders between the two countries. Ankara is seeking to strengthen its hand in gas exploration disputes in the eastern Mediterranean.
Thus, Ankara's embrace of Saleh is underlain by hopes of convincing the Parliament to ratify the agreements. Turkey's invitation to Saleh, and his eventual trip to Ankara stemmed from changing dynamics in Libya. These have forced the parties to adjust their positions.
Ankara could ill-afford continued hostility with eastern Libya, after the warring parties engaged in talks on forming a unity government and reunifying Libyan institutions. This was under a roadmap resulting from the UN-sponsored ceasefire agreement signed in Geneva on 23 October, 2020.
Turkey's Ambassador to Tripoli, Kenan Yilmaz met with Saleh in January, and invited him to visit the country.
Nevertheless, Turkey's rapprochement with the east does not mean it has withdrawn its support for Dbaiba. Such a move, the argument goes, would make it easier for Bashagha to enter Tripoli, and take control of the government.
Despite having its own agenda in Libya, Turkey has been careful to be in rapport with the United States and Britain. Washington has been pressing for elections, without noting which government is the legitimate one. "Free and fair elections are the only means to establishing a national government with legitimacy," US Ambassador, Richard Norland said after a meeting with Libya's Foreign Minister last week.
As for the balance between various militia forces in Tripoli, there have been certain shifts in Bashagha's favour. Yet Dbaiba continues to control the country's finances, and retains the loyalty of groups paid by the Interior Ministry.
On 21-22 July, Tripoli was rocked by deadly clashes between RADA, and the Presidential Guard, both affiliated with government bodies. The fighting resulted in RADA expanding its influence zone. The leader of the Presidential Guard asserted allegiance to Dbaiba, while RADA was noncommittal.