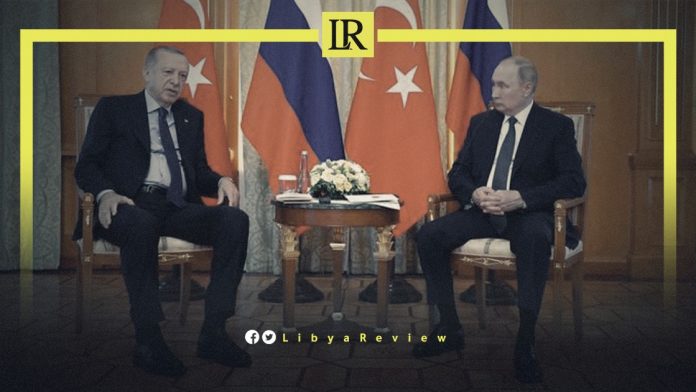 On Friday, Russian President Vladimir Putin and his Turkish counterpart Recep Tayyip Erdoğan affirmed their commitment to Libya's sovereignty, territorial integrity and national unity.
During a joint press conference in the Russian city of Sochi, the two leaders stressed the importance of holding free, fair and credible elections. Putin and Erdoğan reaffirmed their support for the ongoing political process led by the Libyans themselves.
Ealier this week, Erdoğan held talks with the Speaker of the Libyan House of Representatives (HoR), Ageela Saleh, and Deputy Head of the Presidential Council of Libya, Abdullah Al-Lafi, at the Presidential complex in Ankara.
During the meeting, Al-Lafi said that the talks, which also included the Speaker of the Turkish Parliament, Mustafa Şentop, dealt with the latest political developments in Libya.
The views at the meeting converged on preserving the unity of the Libyan territory and expediting the conduct of the electoral process. This occurred through the necessary and agreed-upon legislation through one strong government, he explained.
Al-Lafi also added that the meeting stressed the need to exclude a military solution, and to cease all escalations that hinder the building of a civil and democratic state.
Saleh said he had a "very productive" meeting with the Turkish President Recep Tayyip Erdoğan during his visit to Ankara.
According to Turkey's news agency Yeni Shafak, Saleh said he wanted support from Ankara for the preservation of Libya's territorial integrity. He said that he informed Erdoğan about the situation in Libya during the meeting at the Turkish President's office.
Saleh made the remarks during his visit to Turkiye that took place at the invitation of the Turkish Grand National Assembly Speaker, Mustafa Sentop.
"In my opinion, during this meeting, we were able to explain the Libyan picture to him [Erdoğan] very clearly. We conveyed to him that the most important thing is to preserve the unity and territorial integrity of Libya. Mr. President said that they will make all necessary efforts for the stability and prosperity of Libya," the Libyan Speaker added.