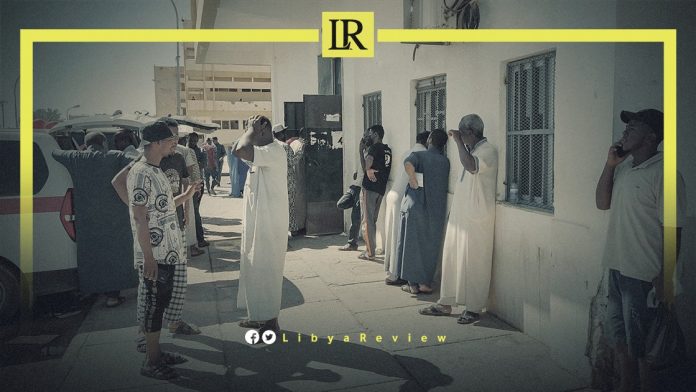 On Saturday, Libyan protesters threatened to shut down the southern oil and gas fields next week. This will occur if the government fails to meet their necessary needs, especially from fuel and gas.
In a statement, Bashir Al-Sheikh, the coordinator of the Fezzan movement, said that the residents of southern Libya are lacking basic rights.
He added that the southern region suffers from endemic instability wracked by communal conflict, a shortage of basic services, rampant smuggling, and fragmented or collapsed institutions.
Al-Sheikh stressed that the residents of southern Libya demand the construction of oil refineries in the south, re-operation of Fezzan airports to resume international flights, appointing their sons in oil and investment companies, and diplomatic missions.
He explained that the protesters also demand the government to set up new road projects, and ensure the holding of parliamentary and presidential elections before next June.
Libyan protesters blocked the road between Sebha and Ubari, in southern Libya. They announced that they would prevent trucks from passing through and reaching El Sharara oil field, the country's largest field.
On Thursday, the Libyan Prime Minister-designate, Fathi Bashagha, allocated 50 million Libyan Dinars in urgent aid to help resolve problems facing the residents of southern municipalities.
According to Prime Minister's Decision No. 20 of 2022, the amount would be deducted from the miscellaneous expense category of the 2022 general budget.
Notably, a truck carrying diesel fuel in southern Libya caught fire, killing at least nine people and injuring 76. The truck was involved in a traffic accident and overturned.
Pictures posted on social media pages by residents showed a burnt-out truck and several other vehicles on both sides of the road, in the Azwaiya area of Bent Bayya municipality.
A security source said that "after the truck overturned, but before it caught on fire, some people from other cars had approached it to try and take fuel from the truck's tank."
"(Those) citizens approached it to refuel without realizing the magnitude of the danger. Unfortunately, the fire broke out in the truck and resulted in the casualties."
Libya has Africa's largest proven oil reserves, but chronic corruption and smuggling to neighboring countries mean that the pumps often run dry.
Southern Libya is particularly affected by poor services and a lack of investment, more than a decade since the overthrow and killing of Moammar Gaddafi in a NATO-backed uprising in 2011.