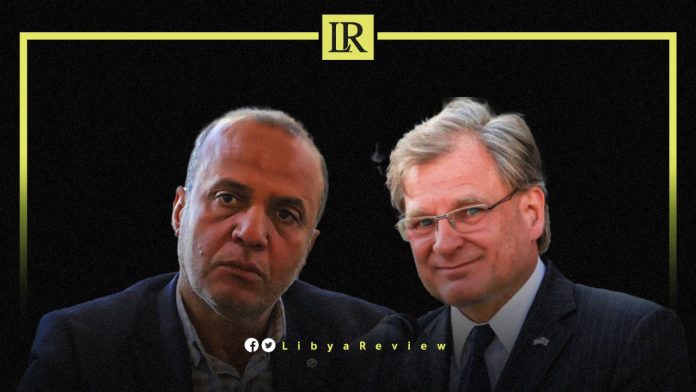 On Monday, the US Ambassador to Libya, Richard Norland met with the Deputy Head of Libya's Presidential Council (PC), Abdullah Al-Lafi. They discussed efforts to address the tense political and security situation in the country.
The two sides agreed that all parties should avoid any step that could provoke violence, according to a statement issued by the US Embassy in Libya.
Norland applauded the PC's engagement with key leaders, and noted the intensive discussions in Turkey, Egypt, and Libya.
The US urged Abdel-Hamid Dbaiba's Government of National Unity (GNU) to continue engagement with Libyan institutions, in order to pave the way for Presidential and Parliamentary elections as soon as possible.
Norland also commended the Presidential Council for its work promoting national reconciliation, and welcomed the role of the African Union in this regard.
Earlier this month, Norland said that the American Embassy and the US Military Command in Africa (AFRICOM) look forward to supporting continued Libyan-led progress to reunify Libya's divided military institution.
In a statement, Norland praised the great efforts of the Chief of Staff of the Libyan National Army (LNA), Lieutenant-General Abdulrazek Al-Nathouri, his counterpart in the GNU, Major General Mohamed Al-Haddad, and the 5+5 Joint Military Commission (JMC) to reunify the military.
He pointed out that the change in AFRICOM's leadership coincides with the 82nd anniversary of the founding of the Libyan Army. "This is a day to note the important role of Libyans in military uniform committed to serving the people of Libya," the Ambassador noted.
Last week, US Secretary of State, Antony Blinken welcomed an African proposal to organize a Libyan reconciliation conference, before holding general elections.
These remarks came during a telephone conversation with Congolese President, Denis Sassou Nguesso. They discussed the latest regional developments, especially with regard to Libya, in addition to preparations for the upcoming US-African summit, the US Department of State said in a statement on Thursday.
Blinken emphasized American support for Libya's Presidential and Parliamentary elections on 24 December. As well as urging Libya's leaders to take the steps necessary to ensure free and fair elections, as outlined by the Libyan Political Dialogue Forum (LPDF) roadmap, including the need for a constitutional and legal framework.