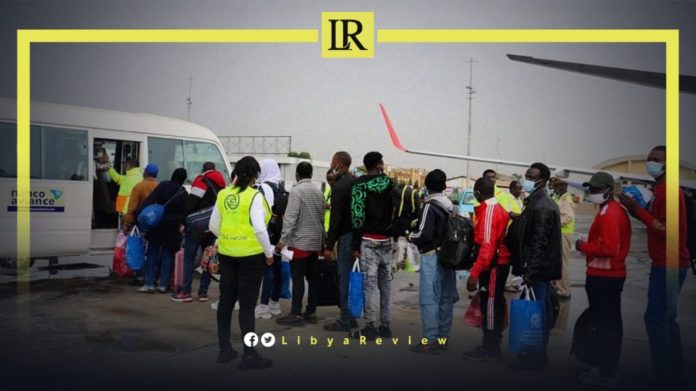 On Thursday, another batch of 174 Nigerian migrants in Libya arrived at Lagos' Murtala Muhammed International Airport.
In a statement, the Nigerian National Emergency Management Agency (NEMA) said that the arrival was the 12th repatriation flight via Lagos Airport. An estimated 2,044 Nigerians have been returned from Libya this year.
NEMA added that the returnees arrived onboard an Al-Buraq Boeing 737-800 aircraft, which landed at around 3:35 pm.
The Director-General of NEMA, Alhaji Mustapha Habib Ahmed received the flight, alongside other government officials.
The returnees comprised 69 women, 75 men, 17 children, and 13 infants. NEMA noted that 23 had arrived with minor medical cases.
Habib noted the returnees were brought back by the International Organisation for Migration (IOM) through a voluntary repatriation program.
He said the program was meant for distressed Nigerians who had left the country to seek greener pastures in various European countries, but could not afford to return when their journey became impossible.
In July, the IOM said that a total of 9,000 migrants, including 656 women and 342 minors were returned to Libya, after being rescued off the country's coast in 2022.
"In the period of January -June, a total of 9,000 migrants have been disembarked back on Libyan shores," IOM said in a statement late Monday. The UN agency also added that 156 migrants drowned, and 565 others went missing this year.
In 2021, a total of 32,425 migrants were returned to Libya, 662 died, and 891 others went missing, the IOM revealed.
Libya has been suffering insecurity and chaos since the fall of the late leader Muammar Gaddafi in 2011. This has made the country the preferred point of departure for migrants who want to cross the Mediterranean to European shores.