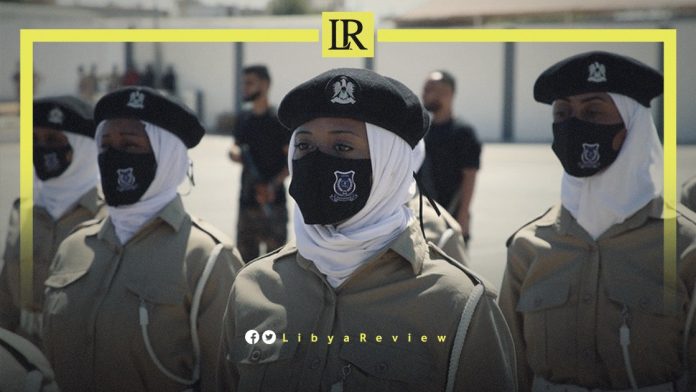 The first batch of policewomen has successfully graduated from the Libyan Interior Ministry. They will work within the agency, to combat illegal migration.
This came at the closing ceremony of a training course held at the headquarters of the "General Directorate for Combating Illegal Migration" in Tripoli, according to the Anadolu Agency.
The Head of the Women's Training and Development Office of the General Administration of Training in the Ministry of Interior, Amna Mohamed said that "this is the first course held for the illegal immigration body in Libya."
"We are working to recruit women for the Interior Ministry in all its departments. To pump new blood into the ministry, according to the security needs," Mohamed said. She explained that work is underway "to highlight the Libyan policewoman, in order to contribute to maintaining security in the country."
For her part, Amina Omar Bubakr, who ranked third in the batch, said "I feel proud of holding the status of a policewoman. Today, we graduated from the Anti-Illegal Immigration Service, after three months of training and study."
She indicated that the training "included how to deal with illegal immigrants, and everything related to the anti-immigration sector."
Libya is one of the most important transit areas for migrants on their way to Europe.
The IOM said on 23 August, that a total of 12,941 migrants, including 812 women and 462 minors, were returned to Libya after being rescued in 2022. It added that 306 deaths, and 712 missing were reported.
In 2021, a total of 32,425 migrants were rescued and returned to Libya, while 662 died and 891 others went missing off the country's coast, the IOM revealed.