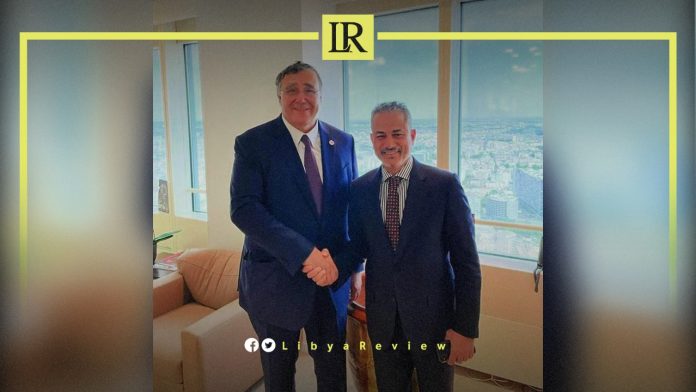 On Thursday, the Chairman of Libya's National Oil Corporation (NOC), Farhat Bengdara met with Patrick Pouyanné, the CEO of French energy giant, TotalEnergies.
During the meeting, they discussed TotalEnergies' multi-energy strategy and activities in Libya. As well as the strategic agreements signed with the Libyan authorities in November 2021 for the sustainable development of the country's natural resources.
Pouyanné confirmed his commitment to the country, and expressed his willingness to launch new investments to increase Libya's oil production. This is to supply the world market, as well asboostg gas output for both the domestic and the European export markets.
The two officials also discussed strengthening investments in Libya's renewable energy sector. Pouyanné stressed that they "aim to help the country build a more sustainable future through an improved use of its natural resources, including solar energy, which will directly improve the accessibility of cleaner, more reliable, and more affordable electricity to the Libyan people."
TotalEnergies has been present in Libya since 1954. In 2021, the company's production was 84,000 bpd.
In November 2021, Pouyanne said that the French oil giant and Italy's Eni SpA are ready to invest billions of dollars in Libya, as the North African country emerges from a decade of civil war.
"I want to contribute to Libya's comeback," Pouyanne added at an energy conference in Tripoli.
"Some may see more boldness than wisdom in Total's decision to partner with Libya. I don't. Where they see risks, I see opportunities," he added.
The Paris-based firm will invest $2 billion into Libya's Al-Waha oil project. It will also work to raise output at the Mabruk field, and help build 500 megawatts of solar power to feed the local grid.
"Libya will be a vital source of supply for global petroleum markets over the next decade," Pouyanne said.