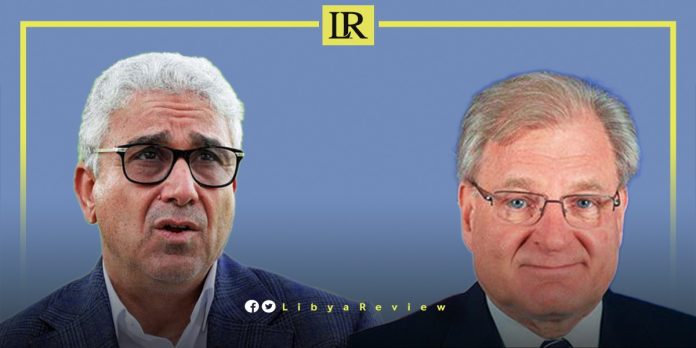 US Ambassador and Bashagha Discuss Military De-Escalation Around Libyan Capital
On Saturday, the United States (US) Ambassador to Libya, Richard Norland, held a telephone conversation with Libyan Prime Minister-designate Fathi Bashagha following the latter's trip to Turkey, the US Embassy announced.
"We discussed the importance of de-escalating the military confrontation in and around Libyan capital, Tripoli," Norland was quoted as saying by the Embassy via Twitter.
The two also discussed "the urgent need for all parties" to work with the new United Nations (UN) Envoy to Libya, Abdoulaye Bathily, to "establish a clear roadmap to early elections as the only solution to Libya's instability."
Notably, armed factions fought in the western outskirts of Tripoli late on Friday and early Saturday as forces aligned with incumbent Prime Minister, Abdelhamid Al-Dbaiba, further consolidated their control over the capital.
The clashes, along with a major pro- Al-Dbaiba group taking over a military headquarters in southern Tripoli, come a week after Libya's biggest bout of warfare for two years, as several rival factions battled in and around the capital.
The standoff between the two men lasted for months, with Libya's powerful eastern faction lined up behind Bashagha, while the numerous factions controlling Tripoli and the rest of the Northwest were divided.
Following last week's fighting, both Bashagha and Al-Dbaiba visited Turkey, which helped the now-divided western factions fight off an eastern military operation in 2020.
Earlier today, the UN Secretary-General António Guterres announced the appointment of Bathily to be the new UN Envoy to Libya after the Security Council gave its approval.
The UN's Chief's decision to appoint Bathily as UN Envoy came after a nine-month search amid increasing chaos in the oil-rich North African nation.
Libya has been in chaos since a NATO-backed uprising toppled and killed longtime leader Moammar Gaddafi in 2011. The county has for years been split between rival administrations, each backed by rogue militias and foreign governments.