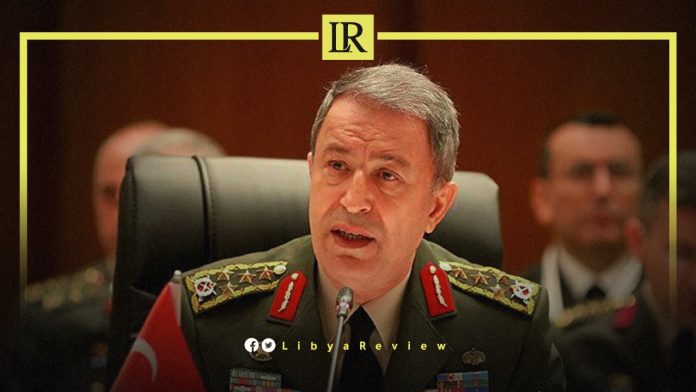 On Monday, Turkish Defense Minister, Hulusi Akar claimed that the presence of the Turkish military in Libya "is not as a foreign power." This came during a meeting with the Prime Minister of Libya's Government of National Unity (GNU), Abdel-Hamid Dbaiba in Tripoli.
Akar explained that "Turkish-Libyan relations are based on historical and cultural roots that extend back 500 years, and that Libya's territorial integrity, independence, and stability are important to Turkey."
He pointed to the importance of the memorandum of understanding signed between Turkey and Libya in 2019. He claimed that the Turkish armed forces present in Libya are not a foreign power, "but rather are elements of a friendly and brotherly country to Libya."
Akar added that they would continue their military training in five centers in Libya. He noted that Ankara is "ready to provide everything necessary to prevent the resumption of conflicts and bloodshed in Libya."
The minister claimed that "Turkey is the only country that has made sincere efforts to achieve self-sufficiency in Libya, without having any agendas."
In June, the Turkish Parliament approved a motion to extend the mission of Turkish troops in Libya for an additional 18 months.
The Turkish Presidency indicated that "the efforts initiated by Libya after the events of February 2011, to build democratic institutions, were in vain due to armed conflicts that led to the emergence of a fragmented administrative structure in the country."
It recalled the signing of the Skhirat Agreement in 2015 in Morocco, under the auspices of the United Nations. This was after nearly a year of negotiations between parties, in order to establish a ceasefire and preserve the country's territorial integrity. The memorandum explained that the Government of National Accord (GNA), recognised by the United Nations, was formed under the Libyan Political Agreement.